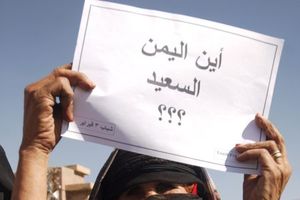 Thousands of Yemenis have taken to the streets of the capital, Sana'a, urging President Ali Abdullah Saleh to follow the example of ousted Egyptian leader Hosni Mubarak.
The Saturday rally, which was approximately attended by 4,000, saw demonstrators chanting, "After Mubarak, it's Ali's turn," AFP reported.
"Get out, Get out Ali" and "The people want the regime to fall," some shouted.
Yielding knives and batons, hundreds of Saleh's supporters, attacked the protesters, injuring at least two of them, DPA said.
Mubarak handed power over to the Supreme Council of the Egyptian Armed Forces on Friday, giving in to 18 straight days of pro-democracy protests.
The ouster was followed by countrywide jubilation in Egypt and international congratulatory messages, namely from Iran and the Lebanese resistance movement of Hezbollah.
Hundreds of thousands of people also went to the streets on the victory day in Yemen to celebrate the occasion.
Saleh has already been in office for 32 years with several opposition members arguing that long-promised reforms have not taken place.
He has pledged to step down at the end of his term in 2013 and has also called on the opposition to join his government. The opposition has not responded to the offer yet.