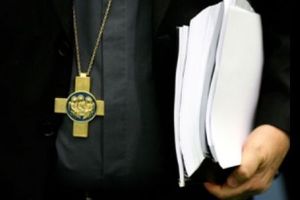 The Vatican has ousted three men from the priesthood years after they were accused in sex , the Archdiocese of Boston said yesterday.
"These men are no longer to function, or present themselves as priests, with the exception of offering absolution to the dying," said archdiocese spokeswoman Kelly Lynch.
In 2002, Frederick J. Cartier was accused of sexually abusing a minor in the early 1970s. By the time the allegation was received, Cartier had been out of ministry for more than 20 years, the archdiocese said.
Louis J. Govoni was accused in 2002 of sexually abusing a minor in the mid-1970s.
He has been absent without permission from the archdiocese since 1978.
Frederick Guthrie took a leave from the archdiocese in July 2001 and later that same year was charged in New Hampshire with using a computer to solicit a minor.
He pleaded guilty.
All three men sought through a voluntary process to be removed from the clerical state, the archdiocese said.
"Although it will not help the victims regain what has been stolen from them in the past, it will help prevent it from happening again in the future," said lawyer, Mitchell Garabedian, who a decade ago represented a client who alleged he had been abused by Govoni at the age of 15.