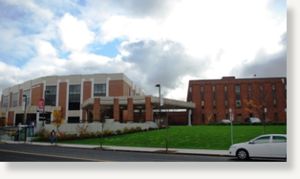 An injured man who had just crashed his car in a hospital parking lot was forced to wait for an ambulance because of hospital procedure, Portland police said.
Investigators said 61-year-old Birgilio Marin-Fuentes died afterwards from cardiac complications.
An officer who had been investigating a possible DUII near Portland Adventist Hospital was flagged down early Thursday morning by someone who had just witnessed the crash.
The witness told the officer a man had just crashed his car into a light pole in the hospital parking lot, according to Sgt. Pete Simpson.
The officer responded to the crash scene and found Marin-Fuentes unresponsive. Simpson said the driver had apparently suffered a medical condition not associated with the crash.
Adventist spokeswoman Judy Lindsay Leach said the charge nurse directed a paramedic to go immediately to the scene, then dispatched first responders.
The crash was approximately 100 yards from the hospital, but the victim could not be processed without following standard ambulance protocol.
When the security staff arrived, the police were already doing CPR and actively preparing the patient for transport to our emergency room, she said.
A spokesperson for the hospital said when the call came in, they immediately put their security first reponse team out to the parking lot and by the time a nurse got out there, paramedics were already on scene.
The officer performed CPR for six minutes while waiting for the ambulance to arrive. The announcement came several hours later that Marin-Fuentes had died.
A statement was released by Adventist Medical Center Thursday afternoon:
"Our hearts and prayers go out to the family and friends who lost a loved one today."
"We do NOT have a policy against responding to emergencies in our parking lot. In fact, we always call 9-1-1 and send our own staff into these situations whether they are gun shot wounds, heart attacks, or any other medical emergency. We have done so many times in the past year alone. We want to reassure the community that Adventist Medical Center continues to be wholly committed to serving the medical needs of all of our patients, as we have been for more than 115 years. We want to assure all patients that we will always respond immediately to their health care needs with the highest quality medical attention."