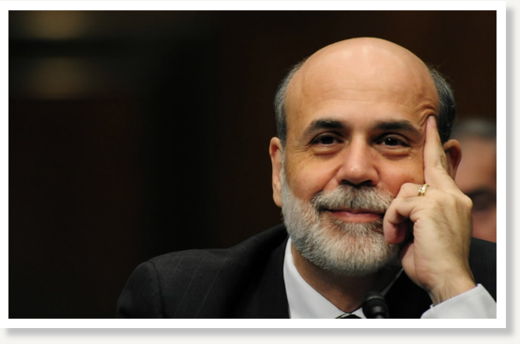 WHO IS KEEPING TRACK OF THE TRILLIONS?
The Federal Reserve Awareness Project
Special request from the publisher of The Daily Bail. I am asking each and every one of you to send this video to 2 people. This is a rare instance in life where just 60 seconds of your time can help change the course of history in the fight against the Fed. Either we win, or Wall Street wins. It's that simple. For a variety of reasons, this clip resonates with virtually everyone who sees it, and you are the conduit. PLEASE click here to pass it on to the next person. That's all I politely ask. As of last week, 3.8 million people had seen this clip. And it's all because of you.
PLEASE HELP US FIGHT THE FED WITH YOUR EMAILS. WE KNOW IT SOUNDS CORNY BUT IT WORKS. IF YOU TAKE THE TIME TO SEND IT TO JUST 2 PEOPLE, WE WILL WIN THIS WAR.
If we can get this clip in front of 50 million people, it's game over...
Video
- Alan Grayson questions the Inspector General of the Federal Reserve
PLEASE email this to just 2 friends - Help us spread the word about stealth Bailouts from the Federal Reserve - With just a few clicks you will be contributing so much more than you know - Thank You!
Help us make a difference! Circulate Far and Wide.
Please share this anywhere and everywhere across the net. Our only hope to stop the heist will come from greater awareness.
WHO IS KEEPING TRACK OF THE TRILLIONS?
If you're pressed for time, start watching at the 3-minute mark. Alan Grayson questions Elizabeth Coleman, Inspector General of the Federal Reserve about $9 TRILLION in secret Fed bailouts, and exactly who is accounting for all that cash.
Editor's Note:
Until the day Bernanke is indicted for crimes against humanity, all we can do is create awareness. Please understand the power of everyone, every single one of you, sending it to just 2 people.
Your email recipient #1...
Yes, it might sound corny, but it absolutely works. Millions have now seen this clip and become aware of Fed corruption. All because of you.
Y
our email recipient #2 - Ask them to pass it on to 2 more people...
We believe this video is the perfect introduction to the Fed and it's abuses for the tens of millions of Americans who have never heard of Bernanke and have no idea what the Federal Reserve even does. For many reasons, it remains the most important video we've ever published, out of more than 10,000.
Click the white icon and you can forward it to several friends with just one click...just separate the email addresses with a comma...
Thank You!
I realize that 99/100 of you either won't (it's ok) or don't know how. But to the few angry souls among you who can and will paste
this link
into an email, and blast it to 200 friends, we just want to say one thing ahead of time - we love you!
And I personally thank each and every one of you for your time and effort.
DB
Publisher - The Daily Bail