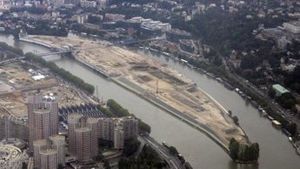 Around 6,000 people were evacuated from a Paris suburb Sunday as police disposed of a World War II bomb discovered in an old Renault car factory. The half-tonne bomb was dropped by allied forces when Paris was under Nazi control.
Police evacuated 6,000 people from a Paris suburb Sunday while they neutralised an unexploded bomb dropped by an allied plane in World War II.
Thousands of residents, some carrying suitcases and pets, flocked out of their homes and into the streets at dawn as police cleared the neighbourhood and dealt with the bomb found last week, an AFP reporter saw.
"It went well. There was no big bang, that's the main thing," said Paris police bomb-disposal chief Denis Lamotte.
The bomb -- weighing half a tonne, of which half was explosives -- was found by builders on the grounds of the old Renault car factory in Boulogne-Billancourt, just west of the city.
Lamotte said it was a British bomb "in excellent condition", though authorities had reassured residents beforehand that there was no imminent danger of it exploding.
The allies bombed the factory, which at the time was under Nazi control, several times in 1942 and 1943.
The police said 400 officers and staff were involved in the operation. Residents returned to their homes later in the afternoon