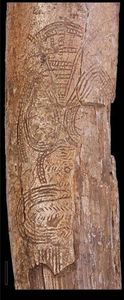 Brno - The prehistoric Czech "Venus of Predmosti", north Moravia, an engraving of a woman on a mammoth tusk, which is one of the oldest artifacts in Europe, may exist in another version that is in a U.S. collection, Martina Galetova, from Brno's museum, has told CTK.
The engraving dating back to the Upper Palaeolithic Age was found over 100 years ago by archaeologist Martin Kriz.
It is housed in the Moravian Land Museum (MZM) in Brno.
The possible "twin sister" of the "Venus of Predmosti" is owned by U.S. art collector Duncan Caldwell.
Both engravings are very similar.
Experts from the Moravian museum are not fully convinced that Caldwell's artifact is genuine.
"It must be further examined thoroughly. However, he (Caldwell) has not given his consent to it yet," Galetova, from the museum, who examined Caldwell's Venus for a short time, told CTK.
If it were proved that both artifacts were made in the same locality at the same time, while one of them disappeared and was uncovered only recently, it would be a real sensation since "Venus of Predmosti" is unparalleled in Europe.
The prestigious
Journal of Archaeological Science
will report on the find of another "Venus of Predmosti" in March.
Galetova said she hoped that she would persuade Caldwell to agree with a further exploration of his artifact.
The "Venus of Predmosti" is unique thanks to its style since an engraving of a female figure was not typical for palaeolithic artists who mainly created geometrical engravings and plastic artifacts. Moreover, the woman's head on the engraving is in an unusual triangular shape.
According to some expert opinions, it might be a shaman's work.
Caldwell showed his "Venus" (also an engraving on a bone) only recently to researchers in France. Galetova, who was in France then, had a chance of having a look at the work.
Caldwell's artifact has the same part missing as the "Venus of Predmosti" and there is also an inscription on it identifying the excavation site: Predmosti and "Moravie" (that is Moravia).
It is certain that Kriz, the pioneer of archaeology in Moravia, had no idea about the existence of another "Venus of Predmosti."
Archaeologists have found out that the "sister" was in the hands of the noble family of de Saint-Perier several decades ago.
The family members were fans of prehistoric art and expressed interest in the archaeological research in Predmosti. Around 1990 the heirs offered the "Venus" for sale and Caldwell bought it.
"It is certainly a (pre)historical piece, not an imitation. It was created by a similar engraving method. However, it is hard to say whether it really comes from Predmosti," Galetova noted, adding that it cannot be ruled out either.