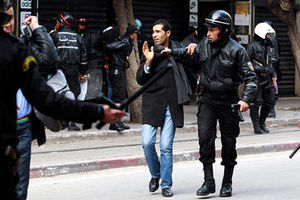 El Kef, Tunisia - Police fired into a crowd of protesters in El Kef, Tunisia, Saturday, killing two people and injuring 17, state media reported.
CNN said Tunis Afrique Presse reported about 1,000 people had gathered outside a police station. They began throwing stones and Molotov cocktails at the building and burned two cars, TAP said.
Police responded first by firing tear gas and shots into the air. When that failed to disperse the crowd, they turned their weapons on the people, TAP said.
It wasn't clear what had prompted the rally in the first place, CNN said.
TAP also reported it had learned form a source in the Interior Ministry that four police officers were arrested Saturday afternoon in connection with the deaths of two youths after a fire broke out Friday in a Sidi Bouzid police station.
Tunisia has been in political transition since President Zine el-Abidine Ben Ali fled the country on Jan. 14, following the outbreak of widespread protests.
.