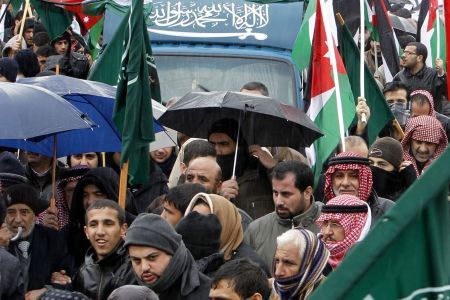 Hundreds of Jordanians have gathered outside the prime minister office in the capital, Amman, calling for wide and quick political and economic reforms.
Around 1,000 protesters marched toward the prime ministry following the Friday Prayers and urged Jordan's newly-appointed Prime Minister Marouf Bakhit to bring in the public on the country's decision making process.
Demonstrators said they demand more government reforms than the appointment of a new prime minister. The protest was organized by the Islamic Action Front (IAF), the political arm of Jordan's Muslim Brotherhood.
On Tuesday, after three weeks of anti-government protests, King Abdullah sacked the prime minister, Samir Rifai, and appointed Marouf Bakhit in his place, instructing him to "take practical, quick and tangible steps to launch true political reforms."
The opposition, however, says Bakhit is not a reformist.
"We want seriousness on the ground. We want a genuine reform. We want initiatives and now so that people feel they are partners in decision making," Secretary General of IAF Hamzeh Mansour said.
"We want freedom, not martial laws. We need a government for the poor. We want electoral law that satisfies the young and old," protesters shouted.
The protest came one day after Jordan's King Abdullah held a rare meeting with key Muslim Brotherhood leaders at the royal palace in an attempt to defuse tensions between authorities and the opposition.
Protesters then left the prime minister's office for the Egyptian Embassy nearby, where they staged a sit-in in support of anti-government protests in Egypt.
"We salute and support the great Egyptian people. Long live Egypt. Down with Mubarak. Fight! Fight! Fight Mubarak," the demonstrators chanted.
"We are marching today to support the brave Egyptian protesters in their struggle to remove Mubarak the tyrant," Muslim Brotherhood leader Hammam Said told AFP.