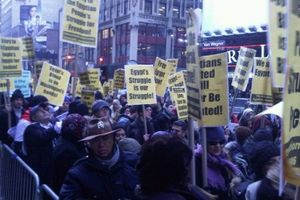 Egyptian-Americans have held a demonstration in Times Square to coincide with the massive demonstrations that were held in Egypt calling for Egyptian President Hosni Mubarak to step down.
Hundreds of people gathered behind police barricades in Times Square on Friday afternoon chanting "Mubarak must go." One demonstrator held up a sign saying, "Long live the Egyptian intifada."
The larger demonstrations in Egypt were named the "Day of Departure" for Mubarak.
The U.S. government says close to 60,000 Egyptian-Americans live in Connecticut, New Jersey, and New York. Community members say the real number is twice that figure.
Over the past week, Egyptian-Americans have gathered in coffee shops and restaurants in a neighborhood of Queens, New York known as Little Egypt, glued to TV sets broadcasting bloody clashes in Cairo. Many are worried about family and friends in their ancestral homeland.
The demonstration in New York began at 3:30 p.m. local time. The protesters later marched to the Egyptian Consulate, which is located on 59th Street and 2nd Avenue.
.