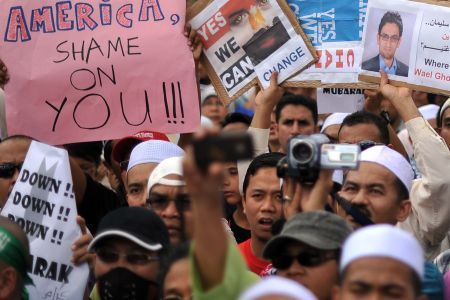 Hundreds of thousands of people around the world have held rallies to support the revolutionary drive of Egyptians and call for the ouster of President Hosni Mubarak.
In the Tunisian capital Tunis, protesters rallied near the Egyptian Embassy. They told President Mubarak to leave just like ousted Tunisian president Zine El Abidine Ben Ali.
In the Turkish city of Istanbul, protesters called for an immediate regime change in Egypt.
In Lebanese capital, Beirut, people gathered outside the Egyptian Embassy, calling for political reform in Egypt.
Thousands of Malaysian protesters, who took to the streets to show support for the Egyptian revolution, clashed with police while staging a march to the US Embassy in Kuala Lumpur, a Press TV correspondent reported.
They demanded that US President Barack Obama force his Egyptian counterpart to step down.
In the Iranian capital, Tehran, demonstrators took to the streets following the Friday Prayers, chanting slogans against Israel, the US, and Mubarak.
They torched pictures of Mubarak and Obama, setting fire to the American and Israeli flags.
Similar rallies have been staged in other countries such as the Czech Republic, Belgium, Jordan, and Thailand in a show of solidarity with protesters in Egypt.