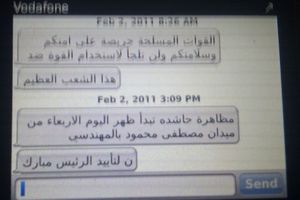 British telecommunications company Vodafone says the Egyptian government has forced phone operators to send pro-Mubarak text messages to Egyptian users.
The mobile operator has sent out messages over the course of the protests calling for confrontation with anti-Mubarak demonstrators.
"Massive demonstration to start at noon this Wednesday from Mustafa Mahmoud Square, in support of President Mubarak,"
a February 2 text message read.
"The Armed Forces asks Egypt's honest and loyal men to confront the traitors and criminals and protect our people and honor and our precious Egypt," another message read.
Vodafone released a statement on Thursday saying Egyptian authorities forced it send out pro-regime messages since the protests broke out 10 days ago.
"Vodafone Group has protested to the authorities that the current situation regarding these messages is unacceptable," the statement said.
"We have made clear that all messages should be transparent and clearly attributable to the originator."
The developments come as millions of people took to the streets in several Egyptian cities demanding Mubarak step down.
Large crowds have turned out in Cairo's Tahrir Square in the biggest demonstration in Egypt's recent history.
The UN says an estimated 300 people have been killed in Egypt since anti-government protests began.