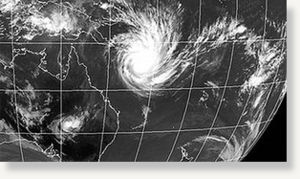 Severe Tropical Cyclone Yasi was upgraded to category five off north Queensland this morning as the weather bureau warned it was likely to be
"more life-threatening" than any storm seen in Australia in living memory
.
The weather bureau says Cyclone Yasi is a large and very powerful tropical cyclone and poses an "extremely serious threat" to life and property within the warning area, especially between Port Douglas and Townsville.
"This impact is likely to be more life-threatening than any experienced during recent generations," the Bureau of Meteorology (BOM) said this morning.
Tens of thousands of people are fleeing their homes ahead of the monster storm, which is expected to hit the coast between Cairns and Innisfail some time tonight.
This morning it was estimated to be 650 kilometres east north-east of Cairns and 650 kilometres north-east of Townsville, moving west south-west at 30 kilometres per hour.
"There's still potential for it to become stronger ... as a strong category five
we could see wind gusts in excess of 320 kilometres an hour (200mph). Which is just horrific."
A cyclone warning is current for island and coastal areas from Cape Melville and Sarina, extending inland to Croydon and Hughenden.
The bureau says damaging winds with gusts up to 90 kph are expected to develop on coastal islands later this morning, then extend onto the coast during the day, and further inland across the northern tropical interior overnight.
Between Cooktown and Ingham these winds will become destructive with gusts in excess of 125kph during the afternoon and very destructive with gusts above 280kph between Port Douglas and Cardwell during the evening as the cyclone approaches.
The very destructive winds can also occur on the seaward side of hills to the north of the cyclone and are also forecast to reach the Atherton Tablelands.
Flooding rains will develop from Cooktown to Sarina during the afternoon and then extend inland overnight.
A cyclone watch is current for coastal areas from the remaining tropical interior east of Camooweal and north of Winton.
The weather bureau says the threat of a storm surge is also a serious concern with Cyclone Yasi coinciding with the high tide.
Destructive winds will cause damaging waves, flooding and dangerously strong currents.
Mr Banks says Yasi is moving quicker than expected.
"We have brought forward the time of a potential coastal crossing and now it unfortunately coincides with the high tide in that coastal area," he said.
"So certainly we would expect to reasonably widespread inundation in the run-up to that coastal crossing."
Mr Banks says north Queensland residents may have to wait hours for Cyclone Yasi to pass after it makes landfall tonight.
"Once we get into the gales and then the storm-force winds and then the hurricane winds - I think the hurricane force winds probably just two or three hours at the most, we'd be hoping, especially as the system starts to weaken quite rapidly as it crosses the coast," he said.
'Stay calm'
Authorities have urged north Queensland residents to stay calm and listen to safety advice as severe tropical cyclone Yasi moves in.
Residents in the cyclone danger zone have been old to turn off their electricity and gas, unplug appliances and fill bathtubs with water as the massive system approaches.
Queensland Emergency Services Minister Neil Roberts says mattresses and pillows should be kept close by.
"Often the safest place for people is in the smallest room in the home - that might be the laundry or the bathroom," he said.
He says history shows storm surges from severe cyclones can be deadly.
"Most lives were lost through storm surges - not through the wind of a cyclone," he said.
Emergency Management Queensland says a storm surge that inundated parts of Mackay in 1918 killed 13 people.
Main Roads Minister Craig Wallace has warned people in the cyclone danger zone to stay off the roads.
"We need to make sure our roads are clear for evacuees, police, road crews and emergency vehicles - I can't make it any clearer," he said.
"If you don't need to be out on our roads, stay home and stay safe.
"People should've made their preparations yesterday on Tuesday - please stay home.
"If you don't need to travel please don't - please don't go out sight-seeing."
Evacuations
Authorities, assisted by the military, carried out forced evacuations overnight across low-lying areas of Townville, Cairns and the Cassowary Coast.
Tens of thousands of people in north Queensland began fleeing their homes yesterday.
Residents in low-lying parts of Cairns and Townsville were told to move to higher ground and patients from two Cairns hospitals were flown to Brisbane overnight.
Authorities say people should leave for higher ground or seek shelter at evacuation centres, which open at 6am in Cairns today.
People who have to leave their homes and have nowhere to go should call 1300 99 31 91 for help finding emergency accommodation.
Queensland Premier Anna Bligh ordered mandatory evacuations yesterday after lengthy discussions with the Townsville City Council about the threat from a cyclonic storm surge.
About 15,000 people have been ordered to leave almost 4,000 homes across Townsville.
Emergency evacuation centres have been activated in Townsville to cater for up to 10,000 people.