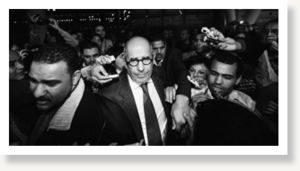 The United States is "losing credibility by the day" in calling for democracy in Egypt while continuing to support President Hosni Mubarak, leading dissident Mohamed ElBaradei said Sunday.
ElBaradei repeated his call for the longtime strongman to step down, going so far as to assert it should happen within the next three days.
"The American government cannot ask the Egyptian people to believe that a dictator who has been in power for 30 years will be the one to implement democracy," ElBaradei told US network CBS from Cairo.
"You are losing credibility by the day. On one hand you're talking about democracy, rule of law and human rights, and on the other hand you're lending still your support to a dictator that continues to oppress his people
," added ElBaradei, the former head of the UN's International Atomic Energy Agency.
His recommendations to President Barack Obama's administration were blunt: "
You have to stop the life support to the dictator and root with the people
."
US Secretary of State
Hillary Clinton called Sunday for an "orderly transition" in Egypt but stopped short of demanding Mubarak step down as protests engulfed his regime
.
Mubarak, who appointed military intelligence chief Omar Suleiman as his first ever vice president on Saturday and named a new premier to try to assuage his people's thirst for change, must go further, Clinton said.
Obama has performed a delicate balancing act over the past week, pushing for reform while refusing to cut off crucial US military aid or call directly on Mubarak, a longtime ally, to go.
Egypt's bitter anti-government revolt has raged for six days, with fears of insecurity rising, a death toll of at least 125, and thousands of demonstrators openly calling for Mubarak to leave the country.
ElBaradei said Mubarak's regime was reaching its end.
"
He absolutely has to leave. This is not me, this is 85 million Egyptians
," he said.
The opposition leader told CNN that he has "been mandated by the people who organize these demonstrations, to agree on a national unity government.
"And I hope that I would - I should be in touch soon with the army and we need to work together."
In a separate interview with CNN, ElBaradei predicted a rapid end to Mubarak's regime.
"It will happen that he has to leave the country within the next three days. There is no way out as I see," ElBaradei told the network.
But when asked if he wanted Obama to publicly ask Mubarak to step down, ElBaradei hesitated.
"
It's better for President Obama not to appear that he is the last one to say to President Mubarak, 'It's time for you to go
.'"
Source: Agence France-Presse