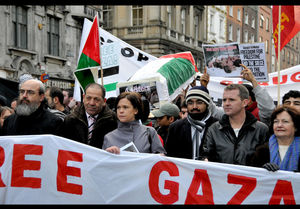 Palestinian delegation in Ireland will be upgraded to an official embassy, following France and Spain; U.K., Sweden, Belgium, Finland, Germany and Denmark expected to follow.
The Irish government announced on Tuesday the decision to upgrade the Palestinian diplomatic status in the country to the status of an official embassy, joining a growing list of European countries that have made the same diplomatic move, including France and Spain.
Last month the Foreign Ministry ordered every Israeli envoy abroad to begin "urgent" diplomatic activity after reports reached Jerusalem that the Palestinian Authority was trying to persuade about a dozen European Union member states to upgrade the PA's diplomatic status.
The Israeli assessment is that Britain, Sweden, Belgium, Finland, Germany, Denmark, Malta, Luxembourg, Austria and perhaps other states are considering a similar move.
In response to the announcement, the Foreign Ministry issued a statement saying that Israel expressed regret over Ireland's decision, adding that "we are not surprised by this move in light of the Ireland's longstanding slanted policy with regards to the Israel-Palestinian conflict."
"The Irish move does not help the peace process, as it strengthens the Palestinian illusion that the Palestinians can advance their interests without returning to the negotiations table,'" the Foreign Ministry statement read.
Meanwhile, Peru on Monday announced that it had recognized a Palestinian state, joining a growing number of Latin American countries in making an endorsement the United States has called premature.
Israel has warned that declarations by Brazil, Argentina, Chile, Uruguay, Bolivia, Ecuador and Guyana could undermine the Middle East peace process.