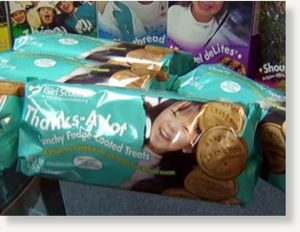 Woman snatched close to $100 from Palm Beach Girl Scouts
There's another cookie monster on the loose in West Palm Beach and she's behind the wheel of a car.
Two Girl Scout cookie sellers were targeted by a woman who drove up to their cookie stand and snatched their hard-earned dough, reports WPBF.com
The drive-by happened Sunday night at a shopping center in Palm Beach Gardens.
A woman in a maroon, four-door Honda pulled up to 7-year-old Vanessa Bergeron's cookie table and asked for a box of the treats. Her mother, Missy, was also at the table and walked up to the vehicle with a box in hand.
That's when the cookie crook asked for change and looked like she was going in her purse, Missy said. As the mother was counting out the cash, the woman snatched the wad of money and floored it.
Vanessa had collected close to $100.
"I would've given her a couple dollars out of my own money, but to rob from two little girls like that, you really have some issues," Bergeron said.
Police weren't able to track the suspect down, but they believe she is in her 30s. Other Girl Scout cookie sellers in the area have been warned of the potential threat.
The Girl Scouts have been the target of cookie crooks during their annual cookie push in the past.
The most infamous of the "cookie monsters" is
Stephanie Woods
, who at 17-years old robbed a 9-year-old Girl Scout outside a Palm Beach supermarket in 2008.