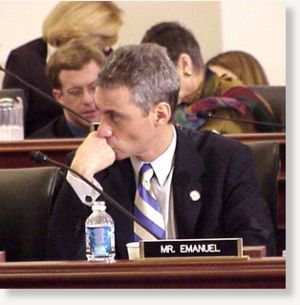 An appellate court panel ruled by a vote of 2-1 on Monday that former Obama administration chief of staff Rahm Emanuel may not run for mayor of Chicago.
The high-powered Democrat, who was the leading fundraiser in the race, was not officially a resident of Chicago in time for the registration deadline, his opponents argued. In previous challenges to his candidacy, Emanuel
convinced the Chicago Board of Election Commissioners
and a judge in Cook County that he'd met residency requirements.
While Emanuel did own a home in Chicago, it was rented out to tenants who'd renewed their lease just days before outgoing Chicago Mayor Richard Daley said he would not seek reelection. When Rahm announced his intent to run, the couple said
they wouldn't be moving
.
Emanuel, whose attorney called Monday's decision "a surprise," was likely to appeal the result to the Illinois Supreme Court,
The Chicago Sun-Times reported
.
State law requires mayoral candidates live in their city for at least one year before an election, although exceptions are made for military service. In a Dec. hearing, Emanuel's service in the Obama administration was ruled to fit that exception of federal service, but Monday's ruling disagreed.
Emanuel had previously served as a member of Congress from Chicago. The mayoral election was scheduled to take place on Feb. 22.
The complete Cook County circuit court ruling was
available online
(PDF).