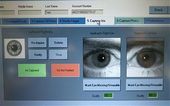 Mexico will on Monday become the first country to start using iris scans for identity cards, according to the government.
The documents, which will include the eye's image as well as fingerprints, a photo and signature, will be 99 per cent reliable, according to Felipe Zamora, who is responsible for legal affairs at the Mexican interior ministry.
"The legal, technical and financial conditions are ready to start the process of issuing this identity document," Felipe Zamora, responsible for legal affairs at the Mexican Interior Ministry, told journalists Thursday.
Critics, including the National Human Rights Commission, have criticised the system, expressing concern that compiling personal data could violate individual rights.
The move will be introduced gradually, with some 28 million minors taking part in a first two-year stage, due to cost $25 million (£15.6 million).
The cards are due to start for adults from 2013.
Iris recognition is increasingly used in airports, controlling access to restricted areas, and prisoner booking and release.