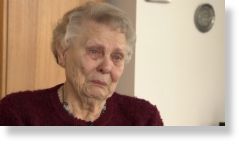 An 82-year-old woman says she was humiliated by airport security who forced her to reveal her gel prosthesis during a recent public pat-down at Calgary's airport.
Elizabeth Strecker, who was flying to British Columbia after visiting her children last week, says that she will never fly again following the incident.
"It was terribly humiliating and embarrassing for me," she told CTV British Columbia in an interview.
Her ordeal began as Strecker was going through security checks at Calgary's airport.
But when a pin in her leg set off a metal detector, she was directed to a body scanner.
Next, she was asked if she was carrying any liquids or gels, which are barred from flights unless they are in small amounts.
When asked, Strecker demurred: "I didn't think I had to tell the whole world I had a mastectomy."
Strecker lost a breast to cancer, and now wears a gel prosthesis instead of an implant. However, the body scanner picked up the prosthesis, which created a problem with security, said Strecker.
"I heard someone say 'whatever she said isn't true,'" Strecker recalled. Shortly after that claim from security, Strecker said she was then subjected to a thorough body search.
"Then she started to touch me everywhere."
While Strecker said the pat-down was intrusive, she is especially concerned over the accusation that she would lie to security.
"They make an 82-year-old woman cry like a baby," she said, noting that being described as "a liar or something" was unsettling.
"I came home looked in the mirror and said, "do I really look like a terrorist?'"
Transport Minister Chuck Strahl said this week that the scenario "sounds completely unacceptable."
Despite increasingly stringent security at Canada's airports, Strahl stressed that airport security have a legal obligation to treat travellers with respect.
He also added that any traveller who feels they have been treated poorly should report any wrongdoing.
"When that sort of thing happens, they should file a complaint. We should know about it and there should be action taken."
Strecker said she will report the incident officially. She is also seeking an apology.