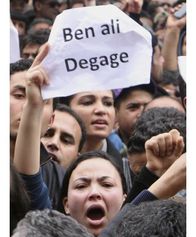 Tunisian demonstrators have called on Prime Minister Mohammed Ghannouchi to step down and leave the country, shortly after he announced that he had taken over as interim president.
Ghannouchi announced that he was assuming power on Friday, promising to enact social and political reforms. But tensions remain high and protesters in the capital are now reportedly demanding that Ghannouchi resign and leave the country.
The Tunisian army took control of the North African nation when President Zine el-Abidine Ben Ali left the country due to a groundswell of public discontent shortly after sacking his cabinet members, AFP reported.
Tunisian military units have surrounded the international airport on the outskirts of Tunis after another day of unrest on the streets of the capital.
There are reports that Ghannouchi plans to hand over power to the leader of the Tunisian parliament, Fouad Mbazaa.
Meanwhile, there are conflicting reports about where Ben Ali is headed. Some reports say the president is heading for Qatar but Maltese air traffic controllers said that he is on his way to Paris via Malta.
Some sources close to the government say members of the Ben Ali family have been arrested, while his wife is reportedly in Dubai.
Ben Ali's fall comes after weeks of bloody protests over corruption, unemployment, and high food prices.
Human rights groups say dozens of Tunisian protesters were killed in the government crackdown before Ben Ali stepped down and fled the country.
Earlier on Friday, Ben Ali, who had ruled the country since 1987, declared a national state of emergency as anti-government demonstrations across Tunisia reached a breaking point.
Public gatherings have been banned in Tunis and security forces have been authorized to fire on anyone refusing to obey orders. A dusk-till-dawn curfew has also been imposed.
Tunisians are furious about the fact that the police killed 13 more people on Thursday night, especially since the president had promised to end the use of live rounds against protesters.