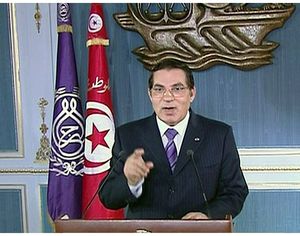 The council, Tunisia's highest legal authority on constitutional issues, decided to formally oust president Zine El Abidin Ben Ali and put Speaker Fouad Mebazaa in charge based on Article 57 of the Constitution.
Premier Mohammad Ghannouchi had earlier taken over from Ben Ali.
Tunisian airports were reopened after Ben Ali fled to Saudi Arabia.
Ben Ali ruled Tunisia for more than two decades. His era was marred by repeated human rights violations and torture.
Meanwhile, unrest continues in the capital Tunis where the central railway station and a market were set on fire. Witnesses have reported lootings in shopping centers.
Police have arrested several people in central Tunis during the overnight curfew.
Analysts believe the ouster of the Tunisian president is a warning to authoritarian regimes across the Arab world.
In an interview with Press TV, Clovis Maksoud, Lebanon's former ambassador and permanent observer of the League of Arab States in the United Nations described the Tunisian uprising as a wake-up call for the Arab world.
"It's going to be infectious in several other areas in a manner that might not necessarily lead to bloodshed but [could] weaken the authority [in many Arab countries]," Maksoud told Press TV.
Meanwhile in another development in the country, reports also say that at least 42 inmates have been killed in an inferno at a jail in the Tunisian resort town of Monastir.
"The whole prison is on fire, the furniture, mattresses, everything," Reuters quoted one witness as saying.