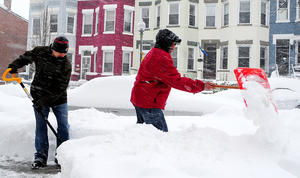 District property owners could soon be ticketed for not shoveling snow off the sidewalks around their land.
The D.C. Council is considering a bill that would empower the city to write tickets of at least $25 for residential property owners and at least $250 for businesses if they don't clear their sidewalks. They'd have
eight hours from the time the snow stops
to get the job done.
"Pedestrian safety should be a priority no matter what season it is," said Ward 3 Councilwoman Mary Cheh, who introduced the bill. "Every year, though, the District wakes up during winter and rediscovers that the current scheme for enforcing sidewalk clearing is impractical and does not work."
The city currently requires property owners to shovel within the eight-hour time frame. But if a property owner doesn't act, the city can clear the sidewalk and then sue the property owner for the cost. That's too costly and time consuming to be effective, officials said.
Cheh introduced a similar bill last year, but it didn't make it out of the council's transportation committee because it didn't have then-committee Chairman Jim Graham's backing. The Ward 1 councilman said Tuesday that he's "very concerned about
how this impacts people with little income and particularly the elderly
" who might not be able to clear the snow themselves.
But Graham no longer heads the committee. It's now under Ward 6 Councilman Tommy Wells, who co-sponsored the sidewalk-shoveling bill with Cheh. She said Graham's concerns could be addressed.
"If someone is physically unable to clear the snow, we might be able to figure something out," Cheh said. "But once you're a property owner, you might not be able to trim your hedges or put your garbage cans in the right spot, but you're still obligated to keep the property in a safe condition."
With snow expected Tuesday evening, the District Department of Transportation sent out a message to residents with a picture of a woman pushing a stroller down a snowy street. The text on the photo reads, "Is your sidewalk shoveled?" The message was part of DDOT's education campaign to get residents to clear their sidewalks, spokesman John Lisle said.
"Enforcement is a challenge," Lisle said. "Over the last few years, we've tried to do as much as we can with an education campaign to get people to comply on their own."