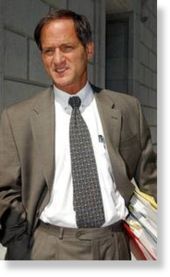 Sacramento area attorney and dedicated atheist Michael Newdow is making another run at "In God We Trust," with a new Supreme Court petition challenging the national motto.
In an uphill battle, Newdow is asking the nine justices to review an appellate court's rejection of his claim that the invocation of God on official currency violates the constitutional separation of church and state.
"Devout atheists are forced to choose between not using what is often the only available legal tender and committing what they consider blasphemy," Newdow argued in his petition placed on the court's docket Tuesday.
With his latest legal petition, Newdow now has multiple First Amendment arguments pending before the Supreme Court. Separately, he is also challenging the phrase "So help me God" in the presidential oath. Newdow said Wednesday a third petition, challenging the Pledge of Allegiance, will soon arrive at the court.
Formal responses in the cases aren't due until at least mid-February, and it could take several months before Supreme Court justices consider the petitions in a closed-door conference. Nonetheless, Newdow concedes the odds are stacked against him.
"I think it is a sheer cliff with any court comprised of justices who are not atheists themselves," Newdow said in an e-mail Wednesday, adding that "I think they would rather avoid the political fallout than do what they are paid to do and uphold the rights of this disenfranchised minority; i.e., atheists."
Few petitions survive their first review by Supreme Court justices and their law clerks. The court only hears about 80 cases annually, picked from upwards of 8,000 petitions. Even if at least four justices agree to hear Newdow's appeal, the court's conservative cast does not appear sympathetic to his overarching constitutional cause.
In 2004, the court heard Newdow's challenge to the recitation of the Pledge of Allegiance in his daughter's Elk Grove school, but the justices then ruled he lacked the legal standing to bring the Pledge of Allegiance case.
The new petition seeks to overturn a March 2010 decision by a three-judge panel of the Ninth Circuit Court of Appeals.
"Even the most liberal court in America, the Ninth Circuit, agreed with us that the national motto is clearly constitutional," declared Brad Dacus, president of the Sacramento-based Pacific Justice Institute. "We are confident that the U.S. Supreme Court will do the right thing and end this frivolous lawsuit."