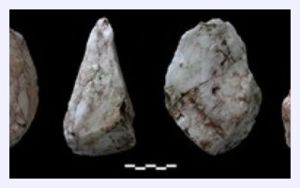 Athens - Archaeologists on the Greek island of Crete have found startling evidence that early humans could navigate across open water thousands of years earlier than previously thought, officials said Monday.
A team of US and Greek archaeologists reached that conclusion after finding stone tools and axes dating from at least 130,000 years ago on Crete, which was already an island at the time, the Greek culture ministry said.
"The findings not only prove marine travel in the Mediterranean existed tens of thousands of years prior to what was known until today, but they also change calculations about early man's cognitive abilities," the ministry said.
It noted that the chiseled shards found in the areas of Plakia and Preveli in 2008 and 2009, and attributed to the
Homo heidelbergensis
and
Homo erectus
species, "constitute the most ancient sign of early navigation worldwide."
Greek archaeologists working with the Athens-based American School of Classical Studies had originally been searching for the remains of Stone Age settlements in the island's southwest dating to 10,000 BCE.
Conclusive evidence of human habitation on Crete had so far been established for the Neolithic period, up to 7,000 BCE.
Instead, the tools discovered could be up to 700,000 years old, the ministry said.