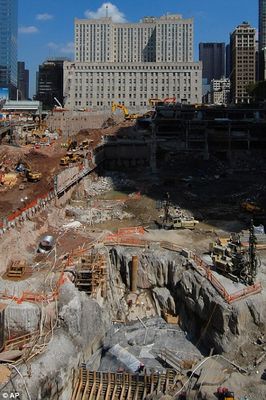 Proof that Manhattan was once buried underneath an Ice Age glacier has been uncovered at Ground Zero.
Crews excavating the site of the destroyed World Trade Centre this summer have uncovered a spectacular underground landscape carved into the bedrock by glaciers about 20,000 years ago.
A 40-foot 'pothole' is the most arresting feature. However reports described a world of rocky colour basking in the New York sun for the first time in thousands of years: underground cliffs, layers of steel-gray bedrock, and thousands of cobblestones in a muted rainbow of reds and purples and greens - as smooth as those found by the sea.
'There are areas in local parks that have small vertical potholes exposed," Cheryl J. Moss, the senior geologist at Mueser Rutledge, told
The New York Times
.
"But I'm not aware of anything in the city with a whole, self-contained depression on this scale."
Exposing the solid rock beneath the site of the September 11, 2001, terrorist attacks in lower Manhattan is critical for supporting what will be Tower 4 of the new World Trade Centre, being built by Silverstein Properties.
"You want to make sure you're not perching something on a ledge," said Anthony Pontecorvo, a supervising structural engineer at Mueser Rutledge Consulting Engineers, which is working on the project.
While removing the overlying soil is an engineering necessity, the digging has given scientists a rare window into the deep past and formations like the huge pothole.
Moss and Pontecorvo plan to deliver a lecture about the geology of the area on Wednesday at the Tribute W.T.C. Visitor Centre next to the site.
But the reminders of the power of glaciers won't be around for long.
The pothole and other features are being covered, filled in or blasted away
.
"It's nice to look at, but it's all got to go," said Robert B. Reina, a supervising structural engineer at Mueser Rutledge.