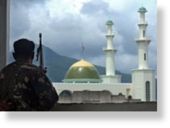 A counter-terrorism consultant told a meeting of law enforcement officials that the way to combat militant Muslims is to "kill them ... including the children," says a news report.
Walid Shoebat, a self-described "former PLO terrorist" who "now speaks out for USA and Israel," reportedly made the comment at a speech during a conference of the International Counter-Terrorism Officers Association in Las Vegas this past October,
according to
the Huffington Post's Chip Berlet.
The comment highlights growing concerns among human rights advocates that US law enforcement is turning to extremists for training in the fight against terrorism. It also highlights concerns among senior counter-terrorism officials that standards for counter-terror training are inappropriate, and possibly harming national security.
According to Berlet's anonymous source, Shoebat's comments got a warm reception from at least some of the people attending the conference:
Our source had turned around after Shoebat's speech and asked the woman in the chair behind them at the conference what she thought was the solution offered by Shoebat.

"Kill them ... including the children ... you heard him," was the full response.

Shoebat's Las Vegas speech was described by our source as "frightening."
Religion writer Richard Bartholomew
describes
Shoebat as "a pseudo-expert on terrorism, Islamic extremism, and Biblical prophecy, and he teaches that Obama is a secret Muslim and that the Bible has prophesised a Muslim anti-Christ."
In a lengthy investigation of the US's intelligence apparatus earlier this month, the
Washington Post
reported
that "in their desire to learn more about terrorism, many [police] departments are hiring their own trainers. Some are self-described experts whose extremist views are considered inaccurate and harmful by the FBI and others in the intelligence community."
The article also notes that standards for counter-terrorism officers plummeted in the years after 9/11, as law enforcement agencies scrambled to refocus on the terror threat.
"The CIA used to train analysts forever before they graduated to be a real analyst," Charles Allen, an ex-CIA official and former head of the DHS intelligence office, told the Post. "Today we take former law enforcement officers and we call them intelligence officers, and that's not right, because they have not received any training on intelligence analysis."
As David Neiwert
notes
at Crooks and Liars, this is not the first time Shoebat has found himself at the center of controversy. In 2008, he was
accused
of falsely claiming to be a former Muslim terrorist who converted to Christianity. Skeptics of Shoebat's claims point to the fact he is not wanted on any arrest warrants in the US, as a known PLO terrorist ought to be.
Earlier this year, Shoebat was one of the speakers at an unofficial memorial for the soldiers killed in the 2009 Fort Hood shooting, an event described by some reporters as being an
exercise in Islamophobia
.
In comments at the Huffington Post, Michael Riker, head of ICTOA, which sponsored the Las Vegas conference, defended Shoebat.
"What you hear from Walid is the TRUTH,"
he wrote
. Speaking about the Las Vegas conference, Riker said "the attendees were glued to what Walid had to say and the majority of them agreed. The liberal media is afraid to hear what the truth really is. Who has been planning attacks on our country? We are in a war of ideology and if you don't know that you need to get you head out of the sand."