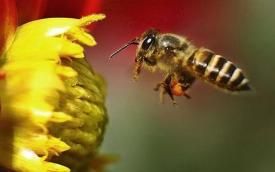 A coalition of beekeepers and environmentalists is asking the Environmental Protection Agency to remove a pesticide from the market because it might kill honeybees.
The request is in response to the leak of an internal EPA document that questions the scientific underpinning of the 2003 approval of clothianidin, a Bayer CropScience product used extensively on corn, the coalition said.
The letter to EPA administrator Lisa Jackson was sent by honeybee associations and representatives of Beyond Pesticides of Washington, the Pesticide Action Network of North America of San Francisco and the Center for Biological Diversity of Tucson.
EPA spokesman Dale Kemery said the study found useful information for risk assessment, but wasn't one routinely required to support registration of a pesticide. The agency will continue to work to help find a cause of colony collapse disorder, which causes large numbers of bees to leave a colony and die, said Kemery.
"EPA takes seriously its responsibilities to protect the environment, including pollinators, from potential effects of pesticides. After years of study, the disorder still is not been attributable to any single cause," he said.
Nearly a year ago, Bayer CropScience removed its pesticide Spirotetramat from the market after a federal judge ruled the EPA skipped steps required in the pesticide approval process, including taking public comment.
Bayer Crop Science, based in Research Triangle, N.C., insists clothianidin is safe for honeybees.
The chemical is one of the company's leading products
, said Jack Boyne, a company spokesman.
"We have been made aware of the unauthorized release of a document relating to clothianidin and honeybees. The EPA has admitted this is a draft document and should not have been released. We strongly disagree with the conclusion of some groups that clothianidin is a threat to honeybees," he said.
The coalition that wants sales of clothianidin halted said the EPA based its 2003 conditional approval of the chemical on faulty science.
"
Clothianidin is among those most toxic for honeybees
. ... This, combined with its systemic movement in plants, has produced a troubling mix of scientific results pointing to its potential risk for honeybees through current agricultural practices," said James Frazier, a professor of entomology at Penn State's College of Agricultural Sciences.
Scientists are worried about honeybees this winter. The problematic deaths - typically occurring during cold months - have not stopped since 2006.
"
I am more inclined than I was even six months ago to believe that pesticides are playing a role in bee deaths
," said Dennis van Engelsdorp, an entomologist with the Pennsylvania Department of Agriculture. "Some of the problems beekeepers are having are just horrible. I am getting calls about this, and bee losses this winter already seem bad."
David Hackenberg of Lewisburg, the largest beekeeper in Union County and the state, said he lost more than 60 percent of his bees in the past few months.
"They are just falling apart. This year looks really bad. We are losing the bee industry.
We are losing the bottom of our food chain
. This can't keep going on," he said.
According to the Department of Agriculture,
bees pollinate $15 billion worth of crops in the United States each year
. An estimated 29 percent of U.S. honeybee colonies died last winter.