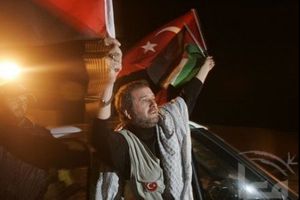 A humanitarian aid convoy carrying aid supplies for the people of the besieged Gaza Strip has entered Gaza through Egypt's Rafah border crossing.
The convoy, known as "Road to Hope", left London on October 10 and arrived in Gaza on Thursday. It comprises of 30 vehicles and 101 humanitarian aid workers that include eight survivors of the Israeli attack on the Freedom Flotilla in May that killed nine people onboard.
The Egyptian negotiators first allowed three members of the convoy, including its leader, to enter the territory, Press TV correspondent, who was present at the Rafah border crossing, reported late Thursday.
The convoy leader told Press TV that the aid fleet crossed France, Spain, Morocco, Tunisia, Algeria, and Libya on its way to Gaza. In Libya, he said, "we were supposed to take delivery of the 'Al-Quds Five' part of the convoy, but, unfortunately, it was not ready".
Moreover, Libya failed to grant permission for the transit of the aid convoy through Egypt by land, leaving it stranded for nine days at the Libya-Egypt border.
"Then, because we were not able to go by road, we hired a Greek ship to go to El Arish port in Egypt", he said.
Greek commandos boarded the ship after the captain brought the group against their will to the port of Piraeus. "The captain 'kidnapped' the aid workers, accusing them of being illegal immigrants", he said. The aid workers later said that they were treated like terror suspects by the Greeks.
The convoy leader also said that the aid content included roughly USD 1 million worth of vehicles, medical aid, equipment for handicapped schools, educational material, blankets as well as toys for children.
Speaking from London, convoy spokeswoman Leyla-Rubaina Hyda said that only 37 members of the convoy had been allowed to enter the Gaza Strip.