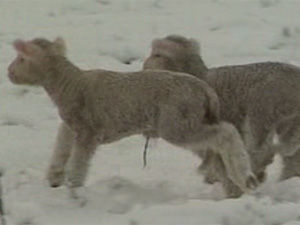 Farm lobby group Federated Farmers says this month's spring storm in Southland looks set to cause the agricultural sector greater economic losses than the Canterbury earthquake imposed on farmers, and they want the government to declare it an adverse event.
"Federated Farmers is now working with Agriculture Minister David Carter on a medium scale adverse event declaration," a federation spokesman said tonight.
Such a declaration could give help such as that provided to farmers in recent serious droughts, including funding for a rural support trust to offer financial advice.
Agriculture Minister David Carter will tomorrow visit the small farm the federation's national president, Don Nicolson, and his wife Gail run at Waimatua, southeast of Invercargill, and the farms of Matthew and Vanessa Richards and David and Alana Clarke.
Tens of thousands of lambs have died over the past five days after snow and bitterly cold weather swept over the south, attracting animal welfare concerns that ewes and their offspring may have died because of a lack of shelter or food.
But Federated Farmers' adverse events spokesman, Southland sheep and beef farmer David Rose, said many farmers had pushed back lambing from late winter into spring to reduce risk.
"We find this incredibly upsetting and distressing because every stock death like this gets to us," he said.
"There are some people in town who don't understand that sheep and cattle live outdoors."
"The spring storm of 2010 is frankly the worst in a generation," said Rose. "The last big dump of snow we had was 14 years ago in the winter of 1996, while the last time we had anything this severe was 38 years ago, in 1972".
"Farmers are doing their utmost to keep stock alive but these weather systems have been unrelenting.
"It's a combination of oscillating driving wind, snow and rain that is doing the most damage to stock as well as sapping energy from farmers.
"Economically, we're also seeing a massive loss of our 2010/11 crop and on the worst affected farms, valuable breeding ewes as well," Rose said.
"You simply cannot make up these losses".
Because farmers saw the economic costs as slashing their potential profits, the storm's impact was creating a lot of added stress on top of fatigue.
"Sheep and beef farmers have spent the last 360 days preparing to have their stock in the best possible condition to lamb, only for all that effort to be undone by five days of sustained storms," he said.
Half the 1600 farms in Southland could be affected, according to Rose.
Snow is expected to again fall to low levels tomorrow, with wind chills as low as minus 5degC across lower levels of Southland and as cold as minus 10degC on the more exposed high country farms likely to be deadly to newborn lambs.
But forecasters have said temperatures should start to lift over the weekend as winds drop and sunnier weather returns.
A million could die
South Island farmers say that as many as a million lambs forecast to be born in Otago and Southland could die because of the bitterly cold conditions.
Some farmers said they had already lost 15% of their breeding stock.
"Some people are losing up to half of their lambs daily, and with weather patterns like this, the potential for that to go on is where the real problem will be," Slinkskins Manager Ray Watson said.
Demand for veterinary drugs for sick sheep also spiked due to the bad weather - so much so, that supplies have been exhausted.
Southland vet Justin Muschamp said the season's supplies ran out at the beginning of the week.
"We've been rushing around filling in gaps," he said.
And farmers say the problems will not end when the storm finally abates. They say many farms in the area would be left saturated and muddy, causing lambing losses to continue.
Source: ONE News/NZPA