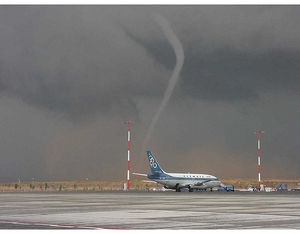 The tornado that blasted through Athens, Ohio with devastating winds and massive hail left destruction at an Athens high school, flipped over mobile homes and injured several people. Residents from Athens reported violent wind, rain and hail around 5 p.m. when the storm struck. Tornado warnings were issued for many of the neighboring counties. Six tornadoes were reported yesterday. Four of them hit Athens County.
About 500 people were directy affected by the tornadoes. Eight people were sent to O'Bleness Memorial Hospital. Two more were sent to Doctor's Hospital of Nelsonville. This morning the sheriff's office confirmed that thirteen people were admitted to the area hospitals due to the storms.
The violent winds caused several road closures. The Pine-Air Villate Trailer Park in the Plains area suffered significant damage. Multiple trailers were overturned and several trees were knocked down. The trailer park is currently without gas due to a leak in the gas line.
Athens High School was also hit by the storm. The students present were safely sheltered during the storm.
There was a girl's soccer game at Basil Rutter Field when the storm hit. The players ran for cover and there are no reports of injury. The bleachers were knocked over and the press box was destroyed.
.