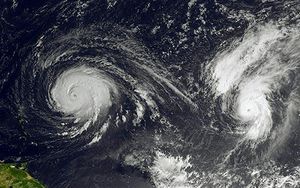 Tropical storm Karl soaked the coast of Mexico as a rare duo of powerful hurricanes rolled waters far out in the Atlantic.
Hurricanes Julia and Igor were moving across the Atlantic in the first time in a decade that there have been two category four storms in the seas at the same time.
Forecasters have predicted that this year could be one of the worst on record for hurricanes.
Hurricanes Julia and Igor are not thought to pose any threat to land, but Karl, the 11th named storm of the season, dumped more rain on Mexico which is already struggling with heavy flooding in southeastern states.
Karl also threatened installations of state oil company Pemex, and was due to pass close by.
Nearly a million people have been affected by flooding in Mexico this month alone, including 25 who died.
The rains, which began in July, are set to worsen as the rainy season continues to almost the end of the year.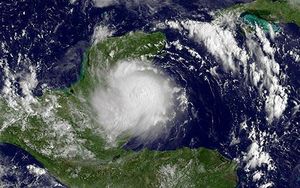 Hurricane Julia weakened slightly after surging overnight, becoming a category three storm with top sustained winds of 125 miles per hour.
Igor, however, remained a massive category four storm, the second most powerful hurricane on the five-point Saffir-Simpson scale, with top winds of 135 miles an hour.
The hurricane was not expected to make landfall for days but forecasters said storm swells would reach Puerto Rico, the Virgin Islands and part of the Bahamas.
Related swells were also due to reach the US East Coast on Thursday.
On average, there are 11 named storms, six of which become hurricanes, in a six-month season.
There has been unusually high storm activity since 1995, according to the National Oceanic and Atmospheric Agency.