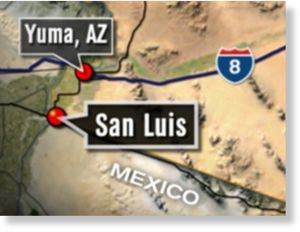 A magnitude-5.0 earthquake has shaken a rural area near the border of Arizona and Mexico.
The U.S. Geological Survey says the 3:52 a.m. Tuesday quake was centered 42 miles southwest of San Luis, a Yuma County border town in southwest Arizona. The preliminary 5.4-magnitude shaker was revised to 5.0.
San Luis police dispatcher Elias Gonzalez felt the quake and described it as a brief jolt. He says a few residents telephoned to report feeling the quake, which also set off some burglar alarms, but there are no reports of damage or injury.
.