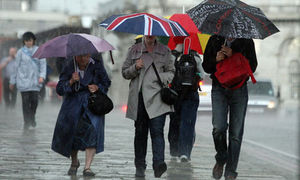 Up to 4cm of rain falls in just a few hours overnight - more than half the normal monthly total - as gale force winds also strike
Heavy rain has brought localised flooding and transport disruption to southern England, with forecasters warning of further heavy rainfall to come.
Up to 4cm (1.5in) of rain - more than half the normal monthly total - fell on parts of the south in just a few hours overnight, and there were also gale force winds in places.
The average August rainfall in southern England is 6-7cm.
The Met Office issued severe weather warnings affecting six regions - Grampian, central Tayside and Fife, north-east England, Yorkshire and Humberside and East Midlands - where there was a risk of heavy rain of up to 15mm falling in a short period.
Thorney Island, in Hampshire, saw the worst of the overnight stormy weather, with nearly 4cm of rain, half of which fell between midnight and 1am, and force eight winds (40mph) battering the area.
The Highways Agency warned drivers to take extra care when using roads across much of England.
The A249 in Kent was among the roads affected, with flooding forcing the northbound carriageway to be closed between the junctions with the M2 and the A250.
The Environment Agency put a flood watch in place for rivers in east Somerset, and another 11 in place for the Thames region.
Claire Austin, a forecaster with MeteoGroup, said conditions would improve tomorrow but "nasty" weather would return on Wednesday afternoon or evening, affecting most of the UK.