Comment:
From
RSOE
: Two tornadoes touched down last evening in two hungarian counties. First tornado landed in the Diósjenő, Nógrád County and tornado-like storm hit the Mezőkövesd, Borsod-Abaúj-Zemplén County. A violent storm caused heavy damage but no personal injury. A tornado-like storms are becoming more common lately.
A tornado swept through Diósjenő, Nógrád county on Monday, uprooting trees and tossing them onto electricity poles and cars.
Gale-force winds lashed Mezőkövest, Borsod county early Monday evening, pelting residents with hailstones as large as walnuts.
It was not immediately known whether the hail caused significant damage, but the downpour of water on the streets halted vehicle traffic.
Sunday evening's storm affected about 40 villages in Szabolcs county, causing damage to houses in 15 villages. Some houses were so damaged that residents had to stay with neighbours and relatives.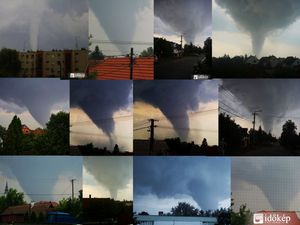 Some 60,000 consumers were left without electricity, of whom 9,200 in Szabolcs and Hajdú counties were still without power on Monday afternoon. That number had dropped to 800 in the villages of Demecer, Székely and Ibrány by Monday evening, according to energy distributor E.ON.