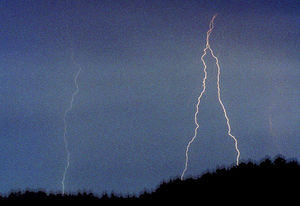 A barrage of lightning strikes across Interior Alaska sparked a handful of new fires on Friday, including a fast-growing blaze near Stevens Village.
The Pat Creek Fire, about 12 miles north of the Yukon River village, has exploded in size since it was detected late Friday afternoon. Fire information officer Sarah Saarloos said the blaze has "definitely grown a lot" since it was mapped at 325 acres on Saturday morning, although the size estimate hadn't been updated.
Gusty winds and dry fuels in the area contributed to the rapid growth, despite a heavy response by firefighters.
Less than 24 hours after it was reported, Saarloos said about 160 personnel were working on the fire, including 32 smokejumpers and five 20-person crews. An incident command center has been established in Stevens Village.
The air attack at Pat Creek included a water-scooping tanker and a Convair 580 retardant tanker.
"They basically threw the world at it (Friday) night," Saarloos said.
Pat Creek was one of a handful of fires started during a flurry of lightning activity. Saarloos said there were 922 reported lightning strikes on Friday in the region, following a busy Thursday that featured 857 strikes.
"The last couple days, the Interior has just been pounded with lightning," she said.
Those strikes have only been accompanied by patchy rainfall, which hasn't been consistent enough to dampen fire activity.
The Uncle Sam Fire, a 2-acre blaze near Minto, was reported following a lightning strike Friday and prompted a quick response.
A smokejumper crew responded, along with air tankers and helicopter bucket ships. Saarloos said the fire appeared to be contained by Saturday.
The Willow Creek fire, which is causing a morning haze most days in the Fairbanks area, has been slowed by sporadic rain showers during the past few days. The roughly 2,100-acre fire is located about 10 miles southwest of Fairbanks on the south side of the Tanana River.
Since the fire was started by lightning on June 10, firefighters have managed it with helicopters and boats. The area is military land and a former U.S. Army bombing range, so there's potential for unexploded bombs in the area.
Smokejumper crews in boats are reporting flare-ups to helicopters to dump water on those spots, Saarloos said. A 500-acre burnout was also conducted Tuesday to remove fuels and reduce the chance of it jumping across the Tanana River.
Eight new fires were reported statewide on Saturday, bringing the yearly total to 455. The blazes have burned about 880,000 acres so far this summer throughout Alaska.