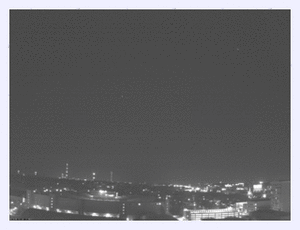 A large meteor sighting occurred over West Michigan late Wednesday evening. Calls to the WZZM 13 Information Center started around 11:10 pm with the first report of a large 'fireball' near Rothbury in Oceana Co. Numerous viewers from Grant, Muskegon and Grand Rapids called in with similar information of a 'meteor' streaking across the sky from northwest to southeast.
Video courtesy of University of Wisconsin:
Click here.
Video courtesy of Howard Co. Wisconsin Sheriff Deputy Tim Beckman:
Click here.
National Weather Service offices across the Midwest reported the same siting from Des Moines and Davenport IA, outside of Kansas City MO, and in Portage, Milwaukee, Rock and Winnebago (WI) counties.
The meteor could be part of the Gamma Virginids meteor shower which started on April 4 and lasts through April 21, with the peak expected around April 14 or 15.
Fireball Fan Page on Facebook:
Click here.
.