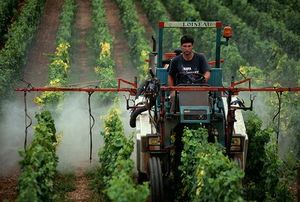 Sun exposure has always been considered the driving force behind rising rates of melanoma. But new research suggests that repeated, long-term use of pesticides may be an important factor, too.
Workers who apply certain pesticides to farm fields are twice as likely to contract melanoma, a deadly form of skin cancer, according to a new scientific study.
The researchers identified six pesticides that, with repeated exposure, doubled the risk of skin cancer among farmers and other workers who applied them to crops.
The
findings
add to evidence suggesting that frequent use of pesticides could raise the risk of melanoma. Rates of the disease have tripled in the United States in the last 30 years, with sun exposure identified as the major cause.
Four of the chemicals - maneb, mancozeb, methyl-parathion and carbaryl - are used in the United States on a variety of crops, including nuts, vegetables and fruits. Two others, benomyl and ethyl-parathion, were voluntarily canceled by their manufacturers in 2008.
"Most previous melanoma literature has focused on host factors and sun exposure. Our research shows an association between several pesticides and melanoma, providing support for the hypothesis that agricultural chemicals may be another important source of melanoma risk," according to the report by epidemiologists from University of Iowa, the National Institute of Environmental Health Sciences and National Cancer Institute.
The findings also may have implications for consumers who use pesticides in their homes or yards. Carbaryl, one of the pesticides linked to skin cancer, is the active ingredient in the insecticide Sevin, which is widely used by consumers to kill pests in gardens and lawns.
The study, published last month in the journal
Environmental Health Perspectives
, examined cancer rates in 56,285 pesticide applicators in Iowa and North Carolina as part of the federal government's
Agricultural Health Study
, a large, long-term study of pesticide applicators and their spouses.
The pesticide applicators were asked how often they were exposed to 50 pesticides. The researchers then compared their cancer rates, finding that those who were exposed to some of the chemicals had a higher risk of cutaneous melanoma then their peers who handled other chemicals.
.A major weakness of the study is that there was no dosage data for the workers. Instead, the researchers approximated how much pesticide each person was exposed to by adding up the days they had been exposed and incorporating information they provided on how they applied the chemicals and what protective equipment they wore.
The researchers found that even though melanoma was infrequent among the studied workers, it increased in frequency among those most highly exposed to several of the pesticides.
Of the 56,285 people studied, 271, or less than half of one percent, developed melanoma. Risks of the disease increased 2.5 times for applicators exposed to more than 63 days of maneb/mancozeb in their lifetime. Applicators who were exposed carbaryl more than 56 days were 1.7 times more likely and exposure to either methyl or ethyl parathion more than 56 days increased their melanoma risks by 2.4 times.
The findings could have meaning for the rest of the population, said Dale Sandler, chief of epidemiology at the National Institute of Environmental Health Sciences and a co-investigator on the study.
Sandler said that some of the chemicals are used by the general population. One major difference is that the workers use protective equipment. This has the potential to make even relatively lower doses risky for residential users.
"The applicators receive continuing education to learn about safe handling of these chemicals, but you or I may go to the store and not read the label," Sandler said.
The risks also go beyond the workers or consumers who use the pesticides. Often the chemicals are in the environment near farms and can contaminate groundwater, Sandler said.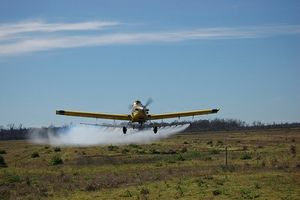 The company that markets Sevin to the U.S. consumer market, GardenTech, declined to comment on the new study. Bayer Crop Sciences, the U.S. manufacturer of Sevin, could not be reached for comment.
Michael Thun, vice president of epidemiology and surveillance research at the American Cancer Society, said the study is "better equipped than most to tease out data" because it included such a large number of people.
But he still has doubts about the link between specific pesticides and skin cancer.
Thun said that even with such a large amount of data, "it is difficult to interpret findings in regard to specific pesticides." Many of the active ingredients are used in combination, which makes it difficult to identify the risky ones.
The findings also may have been complicated by the workers' sun exposure, which is the major risk factor for melanoma.
"Since farmers spend a great deal of time in the sun, we cannot rule out the possibility that these pesticides specific results are driven by sun exposure," the authors said in their report.
Having red hair increased the workers' skin cancer risk by nearly four times, according to the study. People with fair skin are more likely to be sunburned, which can lead to melanoma. Obesity also was linked to an increased risk, for unknown reasons.
The researchers took the workers' survey responses about safety equipment into account when estimating doses.
All pesticides in the study are labeled with handling instructions and some can only be applied and mixed by licensed applicators, who receive ongoing training to handle and mix chemicals. The minimum recommended safety equipment is long pants, long sleeves, boots and gloves, but more personal protective equipment can be required depending on the chemical.
"What kind of safety equipment they need to wear is written on each label," said Kristine Schaefer, pesticide applicator training specialist at Iowa State University Extension. "People need to follow the label directions or they can be held liable. That is what we preach."
But Schaefer said all workers don't follow the rules. "We talk about it in our training all the time to try to get the message across," she said.
Previous research in Europe and the United States also has linked long-term pesticide exposure to increased melanoma risks. In Europe, researchers found that people who used pesticides indoors more than four times a year had twice the melanoma rate of people who used less.
The pesticides in the study are approved for use by the Environmental Protection Agency, and according to Dale Kemery, EPA press officer, they were all reviewed in 2008. Benomyl and ethyl parathion were voluntarily canceled as part of that process. Review of pesticides occurs at least every 15 years.