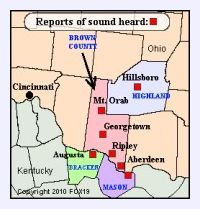 Georgetown - People in the eastern reaches of the Tri-state are trying to figure out what the big noise was that they heard in the sky Thursday night. Brown County dispatchers say they heard a booming sound their station in Georgetown, and had calls from Mt. Orab in the northern part of the county, and from Ripley and Aberdeen on the river. Some Mt. Orab callers said it shook their homes.
Police in Hillsboro got seven calls shortly after 9 p.m. from people saying they had heard a sound. One thought it might have been in the neighborhood, but several other callers described it as a sonic boom. A Hillsboro dispatcher who was in Highland County toward Chillicothe saw a fighter jet that appeared to be in training dropping flares as it crossed the sky, but she didn't notice any boom sound.
Bracken county dispatchers say they had a couple calls from the east side of Augusta from people who said it shook their trailers. The sound was also heard in Mason County in Kentucky.
Brown county called Wright Patterson Air Force Base, but the base said they didn't know of anything that would have caused the boom.
Police dispatchers in neighboring Adams, Clinton, and Clermont counties did not get any calls from the public.
Some viewers from Brown County who joined the FOX19.com internet chat Thursday night also heard the sound.
Television stations in Lexington and Columbus had not heard any reports of noises in their areas.