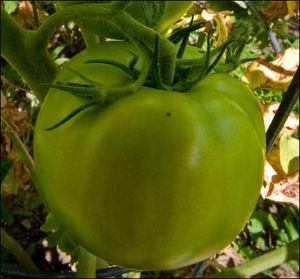 Talk about frustration.
By now, many vegetable gardeners would be layering fat slices of tomatoes on a plate and eating them like watermelon.
But not this year.
The prize of gardening - a juicy tomato, ripe by the Fourth of July - has remained stubbornly green and hard.
"This is as slow as I've seen it, and I've been growing tomatoes since 1972," said Bob "The Tomato Man" Green.
A Sarpy County farmer, master gardener and longtime competitor at the county fair, Green has 67 plants - 27 varieties - this year at his farm outside Springfield, Neb. And they just aren't ripening.
Blame it on the cool weather, he said. Tomatoes need warm days and warm nights to ripen. So far, though, much of eastern Nebraska is running about 4 to 6 degrees below normal for July.
Kathleen Cue, horticulturist for the University of Nebraska-Lincoln Extension in Douglas and Sarpy Counties, said many common varieties will need a week of sustained warmth to ripen. The lower end of acceptable warmth, she said, is a daytime high in the 70s and nighttime low in the 60s. Noticeably warmer than that would be better for more rapid ripening, she said.
Native to Central and South America, tomatoes need warmth to stimulate fruiting, rather than growing foliage.
With eastern and central Nebraska seeing what could be one of the 10 coolest Julys on record, genuine warmth has been hard to come by. Metro-area temperatures for the rest of this week are forecast to be in the mid-70s to low 80s during the day and upper 50s to low 60s at night.
The type of tomato classified as a determinate, such as Celebrity and Big Boy, are about two weeks behind in ripening and could end up a month behind, Cue said. Determinates tend to be larger and are bred so all the tomatoes on a single plant ripen simultaneously for easy harvesting and shipping, she said.
Many heirloom varieties, on the other hand, already have begun ripening. These varieties tend to be smaller, so they don't need as much time to achieve their intended size before they begin the process of ripening. Cue said her heirlooms have been bearing ripe fruit for about a week.
Martha Mutschler-Chu, professor of plant breeding and genetics at Cornell University in New York, suggested that gardeners apply the following to their tomatoes: patience.
"A ripening tomato is a complex organ," she said. "People should just be patient."
The tomatoes in your garden are like people, she said: Cold weather slows them down. Mutschler-Chu said tomatoes must produce gases and organic acids to achieve that distinct tomato flavor; convert starches into sugars for sweetness; and break down polysaccharides to become soft instead of hard.
"It's not so cold that it's preventing that from happening," she said. "It's just taking a while longer."
Green cautions against plucking tomatoes from the vine and bringing them indoors with the hope that they'll ripen faster. They will turn red sooner, he said, but they won't be ripe. Plucked from the vine, the chemical interaction between the tomato and the plant is severed, he said. The tomato no longer can develop its own perfect balance of acidity, sweetness and flavor.
"If you want that type of tomato, go to the grocery store," Green said.
Green has another solution. He harvests about a third of his tomatoes as green ones and uses them in a variety of recipes. For his favorite, a pickle relish called Chow Chow, see Page 2E in the Living section.
If you have yet to get any tomatoes out of your garden, Cue suggests that next year you plant a greater variety, including one cherry tomato plant and a plant with a medium-sized fruit such as a Brandywine. Those can be relied upon for early production.
Like the others, Cue encouraged patience. The average frost date is Oct. 10, so there's plenty of time for tomatoes to ripen.
"Your best flavor is to let it ripen on the vine," she said.