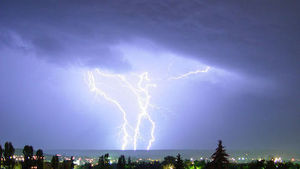 Ten people were killed and 12 injured when lightning struck a house during a funeral ceremony in western India, the
Calcutta Telegraph
said on Wednesday.
The tragedy occurred on Tuesday evening in the courtyard of a house as some 35 people sat down to eat in Atkulla village, around 135 km (83 miles) from Kolkata (Calcutta).
An eyewitness, Subodh Pramanik, was cited by the paper as saying: "I saw an electric flash roll across the courtyard and I froze."
Health officials said that the force of the single bolt killed eight people instantly. "One died in hospital. Two of the injured have suffered 80% burns and their condition is critical," Dilip Kumar Jha told the paper.
Twelve people were reported to have been hospitalized. The condition of three of them has been described as critical.