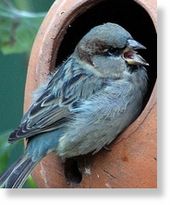 No one is claiming they are blue birds of happiness, but there is a compelling mystery here.
A blue house sparrow (Passer domesticus) has appeared in Sydney, Australia, out of nowhere. Experts are convinced the color is genuine, but baffled as to the cause.
This happened last April, but Where Light Meets Dark is bringing this up on July 2nd, 2009, because they have received a report - including photographs - of other blue birds, probably of different species, in New South Wales, Australia.
For more details, see
here
and
here
.
Update:
There are new details and more photos.
A reader sent me word of another blue sparrow. See
here
.