In his first-ever media interview, Nigerian immigrant David Nwankwo stands by his claim that he was tortured by police. An outrageous smear? Perhaps. But it's part of wider allegations of corruption, theft and brutality that dog the Met.
A nondescript terrace house in North London and a police drugs raid is in full swing.
On a bedroom floor, David Nwankwo is sitting, semi-naked, with his hands handcuffed behind his back as a plain- clothes officer yells: 'Tell the truth.'
The 24-year-old Nigerian-born immigrant is repeatedly kicked and slapped, on one occasion even being struck around the head with a Bible.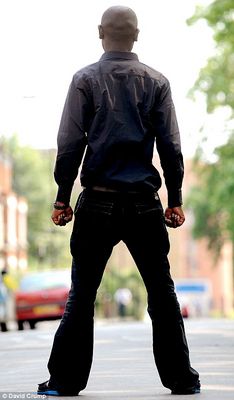 On the landing, another suspect has a bucket placed over his head. While one policeman beats out a rhythm on the bucket with his hands, another breaks into a mocking dance.
For Mr Nwankwo, it is about to get even worse.
Hauled to his feet, he is dragged into the bathroom. The door is closed and the officer places the plug in the sink and turns on the taps.
As the water rises, Mr Nwankwo is grabbed around the back of the neck and his head forced downwards.
'I was screaming and screaming,' he says. 'I was trying to pull my head up. I was so near to the water that it touched my nose. He wanted to intimidate me.'
Though the incident was brought to an end when another officer entered the room, the ramifications of Mr Nwankwo's claims have a long way to run.
His description of his alleged torture by the police - published here for the first time - is at the centre of the most significant investigation into police corruption for decades.
Six police officers with the Enfield borough crime squad, based at Edmonton, North London, are suspended from duty while an investigation is carried out by the Independent Police Complaints Commission (IPCC).
If there is sufficient evidence, criminal prosecutions and sackings could follow.
As a result, the Crown Prosecution Service is reviewing a string of cases in which the officers were involved.
If it is found that their evidence is tainted, scores of suspects could walk free.
As well as investigating Mr Nwankwo's allegation of water torture,
the Daily Mail
can reveal that anti-corruption investigators are probing claims that a number of others were subjected to ritualistic humiliation.
Victims were almost always vulnerable people living on the edge of society, such as the homeless or illegal immigrants.
Sources say the officers took particular delight in humiliating women, but chose their victims carefully.
A source said: 'It was gratuitous violence on people who were unlikely to make complaints or whose complaints were unlikely to be taken seriously.'
Investigators are also examining claims that suspects' property was stolen and evidence fabricated.
Another source added: 'This is without doubt the most serious corruption scandal facing the Metropolitan Police since the Seventies.
'The complete lack of supervision of this squad beggars belief and is a major indictment of how Scotland Yard has been managed over the past few years.'
Two senior officers have been transferred to non-operational posts by Met chief Sir Paul Stephenson.
Insiders believe the allegations of a lack of leadership could damage the reputations of some of Sir Paul's most trusted lieutenants, not to mention causing public outrage.
Perhaps most shocking of all are the allegations of torture.
Until today, Mr Nwankwo has not spoken publicly about the circumstances surrounding his arrest.
News of his ordeal leaked out three weeks ago, when it emerged that the IPCC was investigating an allegation of police torture.
At the time, it was widely described as waterboarding, a term used to describe an interrogation technique whereby a victim is tied down and water poured down their nose and throat to make them feel as if they are drowning.
It was used routinely on terror suspects in Guantanamo Bay.
Police sources have attempted to play down the incident, claiming it has been exaggerated.
A colleague of those suspended spoke out against the 'false claims' that threatened to destroy the careers of the officers, all of whom have denied wrongdoing.
'The only thing this investigation has achieved is letting drug dealers go free,' the source said. 'It's a joke.'
But there are two sides to every story. While Mr Nwankwo's claims must be treated with caution, they are sufficiently credible that they are being taken seriously by the police authorities.
He has given statements to the Directorate of Professional Standards, the Met's anti-corruption squad, and to the IPCC.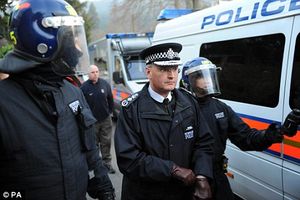 He and his lawyers are also considering civil action against the police.
If even half of what he has to say is true, then it paints a deeply disturbing picture of brutality at the heart of one of London's biggest crime squads.
Mr Nwankwo came to Britain four years ago and is legally allowed to live and work here.
While his lawyers have advised him not to discuss his background, it is worth noting that he has been in trouble only once, when he was cautioned after travelling as a passenger in a car that failed to stop for police.
Mr Nwankwo's arrest took place shortly after 10pm on November 4 as police tracked a consignment of smuggled drugs.
Intelligence had shown that a parcel containing 10kg of cannabis had been delivered from South Africa to a North London address.
An individual from that address had been followed to the home in which Mr Nwankwo and four other men were living.
On the night of the raid, Mr Nwankwo was returning from an off-licence when four plain-clothes officers emerged from a vehicle parked outside the house and wrestled him to the ground.
'I saw some men coming from a car and I thought they were robbers,' he says.
'They never told me they were police. They tackled me to the ground and handcuffed me.'
Because Mr Nwankwo did not have his house keys, the officers broke down the front door, dragging him up the stairs.
He cut his hand badly on a broken bottle and his trousers were ripped off.
Once upstairs, Mr Nwankwo says he was not taken to his own room, but to that of another tenant, a man called Victor.
It quickly became clear that he had fled out of the window as the police entered the property.
'When they came into the room, they went immediately to the window,' said Mr Nwankwo.
'They were angry. They were saying they had lost the job.
'They were asking me: "Where is the boss?" I was telling them I did not know who is the boss. They were telling me they wanted Victor, they wanted to see Victor.'
A subsequent search of the bedroom discovered a number of packages of cannabis resin hidden under the bed.
'One officer opened up a package and brought it to me,' said Mr Nwankwo.
'They were telling me to tell the truth. I was telling them that I had never seen cannabis, that it was a shared house, that I didn't know Victor very well and I had lived there for only eight months.'
In total, six officers were involved in the raid.
As they dispersed through the house arresting two other men, Mr Nwankwo says he was left in the custody of a single officer for about 45 minutes.
He claims the policeman repeatedly slapped him around the head and whenever he tried to straighten his legs, he was kicked.
'I have never done anything wrong, so I was asking: "Why are you beating me up?" I was told that if I told them the truth I could go free.
'The same officer took a Bible and he hit me with it. He said: "Do you go to church?" I said "Yes" and when I said I didn't know anything, he hit me hard on the head with the Bible.'
Mr Nwankwo was able to see on to the landing, where two officers were dealing with another man they had arrested, 33-year-old Ajah Mpakaboari.
'One of the officers went to the toilet and brought out a bucket. They put the bucket on Ajah's head,' said Mr Nwankwo.
'There was a little water in it, and it spilled out. One (officer) was beating on the top of the bucket and one was dancing and laughing.
'Ajah was struggling to get the bucket off. It lasted a few minutes, two or three minutes.'
Meanwhile, he claims another officer joked that a plasma TV in the property would 'look good' in his house.
Another is said to have tried on a jacket he found and then asked his colleagues what they thought of it.
'They were making a mockery of us,' said Mr Nwankwo. 'I felt humiliated because I couldn't believe they would do this.'
But it is the allegations of water torture that are causing most consternation at Scotland Yard and beyond.
What did Mr Nwankwo think the officer was doing when his head was forced down towards the water in the sink?
His answer is unequivocal: 'I felt that he was torturing me.'
He started to scream, which alerted another officer, who knocked on the door and asked what was happening.
'I didn't answer,' said Mr Nwankwo. 'So he asked his mate. He said I had wanted to use the toilet. I told him that he was lying.'
From the bathroom, he was taken into his own bedroom for the first time. There he was shown cannabis that police said they had found on top of his wardrobe.
Mr Nwankwo told them he had never seen the drugs before and could not understand how they had got there.
He and two other men from the house, Mr Mpakaboari and Bernasko Adji, 37, were taken to the police station, where they were charged with drugs smuggling.
Victoria Seabrook, 24, and Nicholas Oforka, 25, who were arrested at a different address, were also charged. All entered not guilty pleas.
In his initial interview with police, Mr Nwankwo did not mention the alleged assaults.
He says he did not see the point because all police 'work together'.
But in subsequent interviews with his lawyers, he did outline the claimed abuse.
As it turned out, Mr Nwankwo and his four co-accused would never stand trial.
The case was set for a six-day hearing in March at Wood Green Crown Court.
But when lawyers for the defence requested information about the character of the police witnesses, it became clear there was a problem.
The prosecutor applied for a public interest immunity certificate, a legal device to allow a hearing to be held in secrecy.
After two days of discussions with the judge, the CPS announced it was dropping the cannabis charges.
The reason? The officers who had arrested Mr Nwankwo were the subject of an internal investigation into allegations of corruption.
'If we had continued (with the trial), we would have compromised a wide-ranging criminal investigation into the activities of a number of officers,' said a CPS spokesman.
The previous month, a number of officers at Edmonton had been suspended or placed on restricted duties following an internal investigation by the Met.
This followed the conviction and imprisonment of a female civilian worker at the station, who was jailed for stealing from the stores, where items seized from suspects are held.
Following this, the Met's anti corruption directorate is understood to have placed video probes and listening devices inside the police station to gather evidence.
Initially, the directorate's inquiry is understood to have focused on claims of theft of property - including computers, flat-screen TVs and iPods - from people who had been arrested.
Why the investigation widened is unclear.
One legal source has told
the Daily Mail
that those involved in the arrest of Mr Nwankwo were caught by the covert cameras discussing what had happened on the night of the arrest.
Another suggestion is that a police officer on the raid blew the whistle on his colleagues.
Whatever the reason, with the collapse of the drugs trial, Mr Nwankwo was immediately interviewed by police investigators.
When the matter was referred to the IPCC, he was interviewed for a second time.
The Mail
understands that the bucket allegedly placed on Mr Mpakaboari's head has been seized by the IPCC as evidence.
In the meantime, Mr Nwankwo is trying to get on with his life.
He has moved house and continues to maintain that he had nothing to do with the drugs found in the raid.
Indeed, a central plank of his defence was to have questioned exactly how those drugs came to be in his bedroom.
Mr Nwankwo says that on being taken into the house, he repeatedly asked to be allowed into his own room, but that he was not taken there for an hour.
Only then was he shown the drugs that the police claim to have found there.
He also says fingerprint and DNA tests would have shown he'd never had any contact with the cannabis.
While angered by his treatment, he admits to being concerned that if he does decide to sue the police, they might 'come after him'.
'I have never seen British police beat people up, so this was my first experience,' he says. 'And it was me they beat up.'
So does Mr Nwankwo trust the British police?
'That question is very difficult to answer,' is his cautious reply, before he adds: 'No comment.'
But one thing is certain.
What he alleges took place has caused shock and deep unease at the highest levels of the Met.
Only in time will the full story of the goings-on at Edmonton police station emerge.
The fear is that when it does, it may rank as one of the greatest police scandals of our age.