Hundreds of birdwatchers have gathered in a Cornish village to catch a glimpse of a rare snowy owl.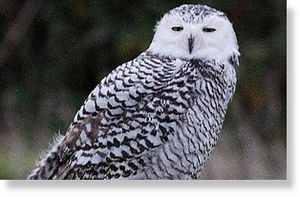 The bird, which is a native of the Arctic Circle, and is usually found in Greenland, Canada and Russia, has been seen at Zennor, near St Ives.
It is the first time in 60 years one has been seen in Cornwall.
In Britain, the snowy owl is usually only a rare winter visitor to Shetland, the Outer Hebrides and the Cairngorms. On average there are between one and four seen each year in the United Kingdom.
The young owl was believed to appeared in Cornwall after being blown off course by storms. Birdwatchers said it appeared to be content, and at home in the freezing temperatures.
Jon Evans, one of the birdwatchers, said: "I have seen snowy owls in zoos but nothing prepared me for what truly wonderful birds they are when you see them in the wild.
"I had driven down through the night from Suffolk. I took a lot of shots of it sitting there with its big yellow eyes.
"But only when it took off with those broad, white wings did I appreciate that the snowy owl is a truly majestic bird."
The owl was first spotted in Cornwall on Dec 21 having made a short flight from the Isles of Scilly.
Alex McKechnie, who saw the owl on moorland at Sperris Croft in Zennor, near a ruined cottage, on Dec 28, said: "We met a guy with a camcorder who said he had just filmed a snowy owl. We were a little bit sceptical but had no reason to disbelieve him.
"It was a once-in-a-lifetime opportunity to see it. It was sitting there on a post, white against the green moorland."
Snowy owls grow to about 2ft in height and have a 5ft wingspan. The snowy owl came to prominence after the Harry Potter books. Harry's owl, Hedwig, was a snowy owl.
Adult male snowy owls are virtually pure white, but females and young birds have some dark patches.
With their thick plumage, heavily-feathered feet and colour, they are well-adapted for life north of the Arctic Circle. Lemmings are their usual source of food.
A spokesman for the Royal Society for the Protection of Birds, said: "The sight of a snowy owl wherever you are, from Cornwall to Scotland, is spectacular. Birdwatchers will flock to see it. To find one yourself would be exceptional in the United Kingdom.
"It is probable that this bird has hitched a lift on a ship for at least part of its journey."