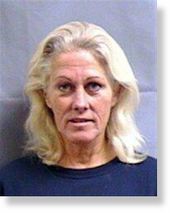 It's been nearly 25 years since the murder trial of Elizabeth Diane Downs captivated the nation -- marking Oregon as the home of one of history's most notorious child killers. Experts have for decades labeled Downs a narcissistic psychopath. She was convicted of killing her 7-year-old daughter and trying to kill her two other young children outside Springfield in a shooting that inspired a true-crime book by Ann Rule and a made-for-TV movie starring Farrah Fawcett.
Today, Downs is 53. Her most recent prison mug shot shows a woman older than her actual years, white hair and sunken features, nearly unrecognizable from the bombshell blonde who once flounced unashamed past television news cameras in handcuffs and shackles. Yet a thick packet of documents collected for her first parole hearing Tuesday shows that Downs' looks are about all that's changed in the past quarter-century.
Records show that Downs has remained as troubled behind bars as she was outside them. She has never participated in any rehabilitation programs, she has never admitted to her crimes. She believes her surviving son is out of a wheelchair though he is a paraplegic and his sister remains partly paralyzed.
Instead, she has spent much of her time plotting how to get out of prison, including one plan to commandeer a helicopter. She escaped from the Oregon Women's Correctional Center in Salem for 10 days in 1987 and was later transferred out of state. She tried to escape from a New Jersey prison in 1989 and 1991, and from a California prison in 1994.
In Downs' view those escape attempts are evidence of her "healthy attitude about society" and that she is ready for parole.
Downs was found guilty on all charges on June 17, 1984, and was sentenced to life in prison plus 55 years. The judge made it clear that he did not wish Downs ever to regain her freedom.
Yet, according to the state law she was sentenced under, Downs is entitled to parole hearings every two years starting this year. Downs will answer questions via closed-circuit television from the Valley State Prison for Women in Chowchilla, Calif.
A recent psychological evaluation of Downs reiterated her narcissistic personality disorder diagnosis: "By year 20 one hopes that the life prisoner has come to a place of deeper self-reflection and introspection regarding their life and incarceration. By this time there should be some struggle in contemplation with existential life issues. Regardless of guilt or innocence, one normally would be asking the how and why questions of life. The thing that is most troubling regarding Ms. Downs is that she appears to have done very little of this."
Comment: If knowledge of the reality of essential psychopathy was part of the basic curriculum of each person - and all varieties of deviance - then there would be no such expectation applied as if everybody were equal. It may have even prevented such a horrific crime from occurring.

Downs has penned at least two lengthy handwritten letters to parole officials defending herself.
"Had I stacked my prison file with 'atta-girl chronos,'" (a term the staff use for inmates who do good deeds for parole board recognition alone), she wrote on Nov. 19, "would you have thought my motivation was manipulative?"
Horrifyingly fascinating
On May 19, 1983, when Downs shot all three of her children, such crimes were virtually unheard of. Though cases of mothers killing their children have long since filled the headlines, Downs' was among the first. It both horrified and fascinated the nation.
At the time, Downs claimed she was carjacked on a rural road near Springfield by a "bushy-haired stranger" who shot her and her three small children. Investigators, however, got suspicious when they noticed her
calm manner given the traumatic event
.
Their suspicions grew when Downs went to see her then 8-year-old daughter, Christie Downs, for the first time in her hospital bed; the child's eyes glazed over with fear and her heart rate, being monitored on a machine, began to race.
Much of the case against Downs rested on testimony by the girl, who described how her mother shot all three children while parked at the side of the road, then shot herself in the arm to make it look as if the crime were committed by someone else.
Escape plans
After her successful escape from the Oregon Women's Correctional Center in 1987, Downs was transferred to a prison in New Jersey.
Records show that in May 1989, Downs' 26-year-old boyfriend, Robert Seaver, submitted voluntarily to a polygraph examination, the results of which revealed that Downs was planning -- again -- to escape.
Seaver outlined numerous escape plans he and Downs discussed, including a plot in which he would pass himself off as a land speculator and hire a helicopter. Once in the air he would force the pilot at gunpoint to land in the South Hall yard while Downs was on recreation.
Downs, then 33, denied the escape plot, prison records show, but she "admitted that she and Mr. Seaver had talked about her trying to become pregnant during visits through a primitive artificial insemination method."
After that, Downs was transferred to the Washington Department of Corrections, which requested the following year that Oregon take her back "due to her attitude" and because "her behavior constituted a security risk."
In 1993, she was transferred to California's Chowchilla women's facility. Less than a year after her arrival, a corrections officer discovered 8 inches of the concrete holding the window frame in Downs' prison cell chipped out in "what appeared to be an attempt to dislodge the window and frame from the building," according to prison records.
In a 12-page, handwritten plea to the Oregon Board of Parole last week, Downs asserted that her escape attempts should be viewed as a good thing.
"
Of all the felonies on the law books, 'escape from prison' is the only one that indicates a healthy attitude about society
," Downs wrote to the parole board in a letter obtained by
The Oregonian
. "
If you truly want to know what sort of prisoner won't come back to prison, your first clue is the prisoner who thinks more about being on the outside of this place than being 'well programmed' or 'adjusted' HERE.
"
Comment: Such an absurd paralogical attitude - another feature of psychopathy - would almost be hilarious if it didn't come from somebody so devoid of conscience that she shot her three children.

"I am NOT ashamed of my escape," she wrote. "At least I don't want to be here and will do everything I need to do so I don't come back."
"How and why"
As part of its consideration, the parole board will look to see whether Downs has accepted any personal responsibility for her actions.
In her Nov. 17 letter, she bristled at the psychological evaluator's suggestion that she
hasn't become introspective about herself or her crime
.
Comment: Has not, because she cannot. It simply isn't part of a psychopath's makeup; it is completely missing from their predatory and constant Machiavellian machinery.

"With all due respect," she wrote, "while it may appear I no longer struggle with the cosmic 'why' or 'how,' the truth is that I have been asking how and why since 10:35 p.m., May 19, 1983. The spiritual struggle (the evaluator) wrote of was engaged decades ago. The cosmic sweat has long dried."
Despite her long history of troubles behind bars, Downs said she still deserves parole.
"I don't run drugs or brew hooch," she stated. "I don't smuggle tobacco or get officers walked off. In 25 years behind these steel bars, I have NOT cracked one of these 'ladies' in the head. If you had lived inside this place,
you might understand what an accomplishment that is
."
Downs also defended herself against the report's assertion that she keeps her "emotions under tight control,
presenting
only socially acceptable feeling."
Comment: A psychopath doesn't have any of the emotions the report is suggesting to keep under control!

"Everyday billions of people wake up to stress and chaos," Downs wrote in response. "Cranky bosses, mad commuters, gas prices that make no sense, dog do on the new carpet. And they 'keep their emotions under tight control, presenting only socially acceptable feelings.' That's what separates civilized humans from gangs and barbarians."
Comment: Who would ever compare the murder and serious injury of innocent children to cranky bosses and gas prices? We know the answer. There have in fact been a few studies in recent years demonstrating that psychopaths have the same emotional reaction - or lack thereof - to an inanimate object as they do to images of human suffering.

Children won't testify
The two surviving children, Daniel and Christie, eventually went to live with Lane County Assistant District Attorney Fred Hugi, one of the prosecutors of the case, and were adopted by Hugi and his wife. Daniel, the younger child, is a paraplegic as a result of the shooting. Christie has permanent partial paralysis on one side of her body.
According to parole officials, Downs' surviving children are not scheduled to testify at Tuesday's hearing. Lane County District Attorney F. Douglass Harcleroad spoke vehemently against Downs' parole.
"Downs shot each of her three children execution-style while they sat in her car," he wrote. "Cheryl was shot twice in the back and died immediately. Christie was shot in the chest and then again through the hand as she was grabbing her chest. Danny was shot in the back as he lay sleeping. Downs then waited for all the children to die as she slowly drove her car back to town."
Harcleroad railed against Downs' assertion in one of her letters to the parole board that her son was once again walking.
"Contrary to Downs' bold assertions in her dangerous-offender report, Danny remains paralyzed from the chest down. He will be confined to a wheelchair for the rest of his life."
Harcleroad asked the board to turn her down flat, citing Downs' "
utter lack of any re-evaluation or remorse for her horrific crimes
."
"Downs has certainly not been rehabilitated and most likely never will," he wrote. "She constitutes a danger to others of the highest extreme which cannot, by any stretch of the imagination, be controlled by supervision and treatment. The application for parole should be denied."