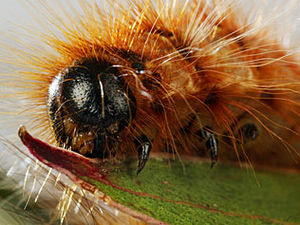 Millions of hairy caterpillars are making life an itchy misery for residents of a small town north of Bundaberg in Queensland.
The as yet unidentified sub-species of the "processionary" caterpillar has been steadily multiplying since the start of the year to the point where residents of Yandaran cannot stand still without being covered in the creepy crawlies.
"It's like something is out of whack somewhere in the environment for them to be like this, munching through everything," said resident Dallas Boothey, who wears a protective suit to shield herself from the caterpillar's itchy little hairs.
"During winter it wasn't too bad but they've come back with a vengeance," she said
"They can travel up to a kilometre in the air and they create a very itchy allergic reaction in some people, including me.
"I get itchy red welts and a tightness of the chest. That's why I wear the suit which is really hot in summer. At the moment it's like living in a horror movie that never ends."
Along with fellow resident Karon Carr, Ms Boothey has tried to get a state government official to inspect the infestation.
"No one wants to know about us," Ms Carr said.
"I've tried the Department of Primary Industries and Fisheries, the Department of Natural Resources, the Environmental Protection Agency and Queensland Health. No one will come out and see what it's like."
But last night a DPIF entomologist was expected to attend a public meeting in Yandaran.