At least seven people have been found dead after "
the worst snowstorm on record in Tibet
," China's state-run news agency reported Friday. About 1,350 people were rescued in Lhunze County - another 300 were trapped - after nearly five feet (1.5 meters) of snow blanketed much of Tibet this week. The storm caused buildings to collapse, blocked roads and killed about 144,000 head of cattle, the state-run China Daily newspaper reported. The seven people who died either froze to death or were killed as a result of collapsing buildings, and one person is still missing, China Daily said. The BBC added: Heavy snowstorms have hit eastern Tibet over the last few days, worsening the situation for survivors of the earthquake earlier this month. Temperatures plummeted as snow started falling on Sunday.
At least two people are reported to have died and many more are missing. Snowfalls have blocked roads, caused avalanches and led to widespread power cuts. Thousands of people have been living in tents or temporary shelters since the earthquake on 6th October. Relief materials including food and blankets are flooding into the area. Heavy snowstorms are rare for this part of Tibet in October, and temperatures are unseasonably cold.
Record snow storm in
Switzerland
- The most snow for any October since records began in 1931 - 30 Oct 08 - A heavy, wet snow snapped trees, which fell across tracks and roads. The most affected regions included Zurich, Schaffhausen in the north and the areas around the Gotthard pass in central Switzerland.'Farmers in the Bernese Oberland also awoke to snow-related problems. Damaged fences allowed their cows to wander freely.'According to MeteoNews, the Swiss lowlands received the most snow for any October since records began in 1931. Zurich received 20cm, beating a record of 14cm set in 1939.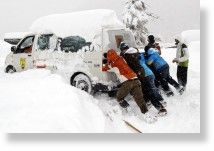 Meanwhile
first October snow fell in London in 74 years
as Arctic blast swept across UK. One man was killed and thousands were left without power today after inches of snow fell across the country overnight. Thousands of homes were without power in Bedfordshire, Hertfordshire and Buckinghamshire after two inches of snow damaged high voltage cables in temperatures of minus 4C. The icy conditions also brought chaos to the roads across the South, Midlands and East Anglia. And commuter trains ground to a halt when snow fell off overhanging branches onto the lines. While the wintry dusting soon vanished in Wednesday's sunshine and showers, more snow was forecast for Wales last night. The last time snow settled on London in October, Britain was in the midst of an economic depression, the prime minister was losing his grip on power and Spurs were at the start of a season that would see them relegated from top flight football. While the capital woke to its first October blanketing since 1934, the rest of the South had its first pre-Halloween snowfalls since the 1970s. The unseasonal flurries, caused by a blast of air from the Arctic, were welcomed by millions of children in the middle of their half-term holidays.
Anchorage, Alaska
also had A TOP TEN cold and snowy Ocotober. With an average temperature of 29.7 degrees, October landed a spot in history as one of the 10 coldest out of the roughly 90 years since records have been kept in Anchorage. The coldest October on record was in 1996, with an average temperature of 25.5 degrees. The 10th coldest was in 1965, with an average temperature of 30.7 degrees. And, though there's little snow left on the ground to prove it, the month was also the 14th snowiest on record, the Weather Service said. Snowfall for the month was 13.1 inches, 5.1 inches above normal. In years past, Octobers have seen as little as no snow to as much as 28.1 inches in 1996, the Weather Service said. UPDATE from Mark Vogan in the UK after correspondence with a forecaster at the NWS Fairbanks, who told him Alaska is ready to end their 4th but potentially 3rd coldest October on record fir AK, at the same time Northern Ireland ends their October an amazing 7 to 8 degrees C BELOW NORMAL and yesterday (Wed) marked the COLDEST OCTOBER DAY in Northern Ireland since 1934!! Scotland saw it's worst winter weather in October in 30 years and (Central) London saw it's first October snow in some 70 years. He also reports on this story.