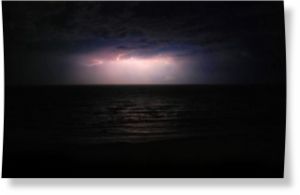 Power was cut to more than 15,000 homes and hailstones the size of golf balls fell during a severe thunderstorm over South-East Queensland last night.
The Bureau of Meteorology said wind gusts of 102 kilometres an hour were recorded at Amberley, west of Brisbane, at 4.50pm, while Brisbane Airport recorded up to 53 kilometres an hour, and the city 33 kilometres an hour.
Hailstones the size of golf balls were reported at North Ipswich and west of the city at Boonah and smaller hail stones also fell over Enoggera and Newmarket in Brisbane's north.
SES regional director Eddie Bennet said firefighters were called to a fire at a Camp Hill home, in Brisbane's south-east, about 5.50pm.
"The fire is believed to have started in electrical wiring following a lightning strike on the house,'' he said.
Three fire crews responded to the scene and quickly extinguished the blaze in the two-storey Queenslander-style home.
There were no reported injuries.
Bureau senior forecaster Brett Harrison said the storm tore through Ipswich, into Brisbane's western suburbs, over the northern suburbs, and on towards Caboolture where it now sits about 200 kilometres offshore.
It dumped 22 millimetres of rain in Ipswich, 21 millimetres at Mount Coot-tha and 28 millimetres at Pullenvale. The highest rainfall was recorded at Mount Mee, west of Caboolture, which had 44 millimetres.
Energy provider Energex said about 15,000 homes were left without power at the height of the storm. The worst affected areas were Ipswich and its surrounding areas, including the Lockyer Valley and Fassifern Valley.
Power was also cut to houses in Caboolture and Redcliffe and more than 4000 homes in Brisbane's northern suburbs.
An Energex spokeswoman said the outages were largely due to high winds and debris bringing down power lines. The first occurred about 4.30pm and power was restored to all homes by about 9.30pm.
She said about 11,300 lightning strikes were recorded during the storm.
Mr Bennet said volunteers finished working about midnight after receiving about 50 calls for help.
"In the Brisbane region, 10 SES volunteers were activated to respond to 16 calls for assistance, including repairs to leaky roofs and reports of tree damage to houses,'' Mr Bennet said.
"In the Ipswich area, 26 SES volunteers were activated to respond to 24 calls for assistance. Tasks mainly included roof repairs.''
While Mr Bennet said the SES was expecting a less intense storm this afternoon, he advised people to start preparing for the storm season.
"People need to be prepared for this, it's summer storm season time and time for people to start thinking about their roofs for cracked tiles and clean their gutters,'' he said.
Four Qantas flights out of Brisbane last night were delayed for about an hour.
Brisbane Airport Corporation said that because of lightning in the area, baggage handlers were not allowed out in the open.