Padre Island National Seashore, TX - The world's longest undeveloped barrier island now looks as if people have been living - and dumping - on it for decades.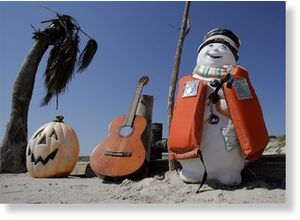 Tons of debris swept up by Hurricane Ike last month were carried by Gulf of Mexico currents hundreds of miles from the upper Texas coast to this ordinarily pristine landscape just north of the Mexican border.
Sections of roofs, refrigerators, loveseats, beds, TVs, hot tubs and holiday decorations litter the more than 60 miles of gently arcing sand in the national park.
Some of the junk is good for a laugh, like the lifejacket-clad snowman someone placed next to a plastic pumpkin, a small but real palm tree and an acoustic guitar. But it's no joke to wildlife workers who are worried the trash will harm birds and other animals, including an endangered turtle that nests here in the spring.
"It could have a huge impact," said Larry Turk, maintenance chief for Padre Island. The park wants to clean up as much of the debris as possible before the Kemp's Ridley turtles return, he said, because a debris-clogged beach would make it hard for them to dig their nests.
For two weeks after Ike hit, every high tide seemed to dump a load of debris on beaches, and two weeks into the cleanup, the amount of debris on gulf beaches remains untallied.
One 4-mile stretch had produced enough to fill 2,970 industrial-size trashbags. Farther south at Cameron County's South Padre Island beaches, Ike's residue quickly filled seven 30-cubic yard garbage bins.
Some of the Padre Island debris is the stuff of anyone's weekly garbage, including the garbage can itself. Some smacks of irony: a sandbox in the shape of a green turtle, or an octopus preserved in a jar.
"It's on all our beaches - everything, people's lives," said Tony Amos, a research fellow at the University of Texas's Marine Science Institute.
No bodies have been found amid the rubble, although dozens of people remain unaccounted for.
Cleaning up the national seashore is a federal responsibility, but local governments in the area were relieved to also be included in the federal disaster declaration, allowing them to seek cleanup reimbursement from the Federal Emergency Management Agency.
That was not the case three years ago, when Hurricane Rita smashed into western Louisiana and sent a flood of debris to South Texas beaches, said Javier Mendez, parks director for Cameron County. Mendez's department maintains about 9 miles of beach on the island and another 7 miles along the coast south to the Mexican border.
"We just couldn't handle it," Mendez said of that earlier storm's debris. This time Mendez is counting on federal reimbursement.
Some of the garbage is a hazard to the seashore's wildlife. The most obvious risk could be the countless small pieces of plastic that could be mistaken for food.
"The plastic is a real killer of both turtles and birds," said Dr. Joshua Rose, natural resource specialist for the Bentsen-Rio Grande Valley State Park.
Seabirds like gulls, terns and pelicans, not very discerning diners, can get tangled in larger pieces of plastic or get smaller pieces lodged in their digestive systems, Rose said.
At the national seashore, park rangers are going after the most immediate threats first, collecting plastic and steel barrels that could contain oil or hazardous chemicals. A hazardous materials team scheduled a daylong expedition down the seashore this week.
Next, rangers will go for the big floating plastic bins that organize households.
Lumber is a lower priority, and beachcombers like David Michaelsen may end up grabbing most of it.
Michaelsen, 55, burned some vacation time to wander the debris field with tape measure in work-glove-clad hands. He is building a greenhouse for his wife and started looking for materials along the 60-mile-long free rummage sale.
"I can take care of a few house projects, use my (time off) and clean up the beach all in one afternoon," Michaelsen said after dropping a large plastic lid - perfect drip pan for a leaky Jeep at home - into the bed of his pickup. "The way lumber costs anymore, and this is just lying here."
Some unknown architects made a little shade on the beach by pounding some two-by-fours and plywood together. They furnished it with a few of the hundreds of plastic patio chairs on the beach and used orange spray paint to dub it the "Shark Shak." It was the perfect spot for J. Carl Lee and his Jack Russell terrier, Hunter, to stop for lunch.
Looking around, Lee thought there could be a business opportunity for someone willing to mine the beach's plastic.
He only saw one problem.
"You wouldn't have enough trailers to pull all the plastic off this beach."