Rome - The "war on terror" declared by U.S. President George W. Bush after the September 11, 2001 attacks has caused more terrorism than it prevented, Syria's foreign minister said on Thursday.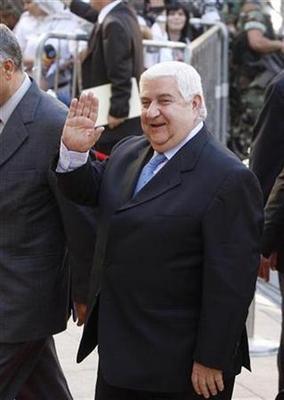 ©REUTERS/Mohamed Azakir
Syria's Foreign Minister Walid al-Moualem waves upon his arrival to attend the parliamentary session for the presidential election in Beirut May 25, 2008.
On the seventh anniversary of the attacks on the United States, Walid al-Moualem said Washington had ignored Syria's advice not to rely on force to stop terrorism.
"As we said to President Bush shortly after the tragic events on September 11, the fight against terrorism must begin at the roots, at the cause of terrorism," al-Moualem told a news conference in Rome, where he was meeting Italy's foreign minister.
"The last thing we should use if that fails is the use of force, as a last resort. Unfortunately they have made the use of force the beginning and the end of the fight against terrorism and thus terrorism is much more widespread today than before."
Syria is viewed with suspicion and hostility by Washington for its closeness to Iran and its support of Lebanese militant group Hezbollah, classified as a terrorist organization by the United States.
"Hezbollah and (Palestinian group) Hamas are not terrorists, they are national resistance movements against occupation," al-Moualem said. "Whilst there is occupation there will be national resistance movements."
With the mediation of Turkey, Syria is in indirect peace talks with Israel in which one of its key demands is that Israel return all of the Golan Heights it seized during the Six-Day War in 1967.
Nearly 3,000 people were killed on September 11, 2001, when four hijacked airliners crashed into the World Trade Center in New York, the Pentagon in Washington and a field in Pennsylvania.
The attacks spurred the United States to oust the Taliban government in Afghanistan which was hosting al Qaeda leader Osama bin Laden and to invade Iraq, which it suspected of creating weapons of mass destruction.