Vancouver -- The sea floor off the B-C coast has been rocked by strongest in a series of earthquakes to hit the area this week.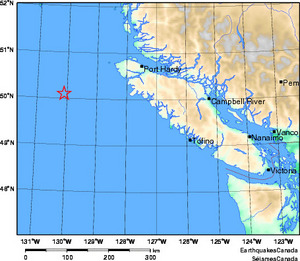 ©EarthquakeCanada
This map, provided by Natural Resources Canada, uses a red star to mark the location of a 6.1 magnitude earthquake that struck 157 kilometres west of Port Hardy, off the north coast of Vancouver Island, on Thursday, Aug. 28, 2008.
The quake struck about 157 kilometres west of Port Hardy on northern Vancouver Island about 5:30 a.m. Pacific Time, but there are no reports it was felt on land.
It was first measured with a magnitude of 6.1, but the U.S. Geological Survey later revised that to 5.8.
The tremor follows two quakes yesterday in the same area, both with magnitudes of around five, and several other quakes earlier in the week.
Garry Rogers of the Geological Survey of Canada say the shaking is happening in an active geological region that often produces swarms of quakes, although he calls this one of the more "vigorous swarms" in the last few years.
He says there may be more earthquakes and they could be slightly bigger, but they're nothing to be alarmed about.
Rogers says the quakes are so far offshore it's likely no one felt them and they're too small to trigger a tsunami.