Yang Gancai is fascinated by China's ethnic minorities. The amateur photographer and his wife have traveled widely in China's frontier areas and settled in a minority village for six years to study its people and shoot documentaries about their way of life. During his time in the village Yang noticed that the symbolism used by the villagers, who, calling themselves the Akas, belong to a branch of the Hani ethnic group, bore a remarkable resemblance to the famous
Sanxingdui
bronzes, unearthed in 1986 in China's Sichuan Province.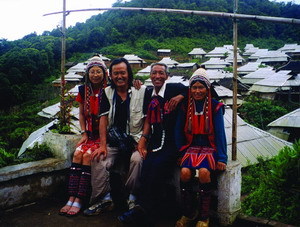 ©China.cn
(From L to R) In 2005, Yang Gancai's wife and Yang Gancai pose for a photo with the Akas in the village where the couple have lived for six years.
Hani people traditionally worship birds and the inhabitants of the village Yang lived in worshipped images of both birds and eyes. The bronzes unearthed at Sanxingdui include many images of birds, with exaggerated eyes; Yang associated the Sanxingdui bronzes with the Akas.
Basing on his understanding of the Akas, Yang believes the splendid Sanxingdui bronzes were created by a people related to the ancient Qiang ethnic group, ancestors of today's Akas. Originally nomads, Yang suggests they settled in the Chengdu plain where they created the splendid Sanxingdui culture before retreating south into the southwest frontier regions of Yunnan Province after being overwhelmed by other tribes.
Archeologists believe two pits discovered at Sanxingdui were used to conduct sacrifices, since all the objects unearthed from the pits were used in the sacrificial ceremonies.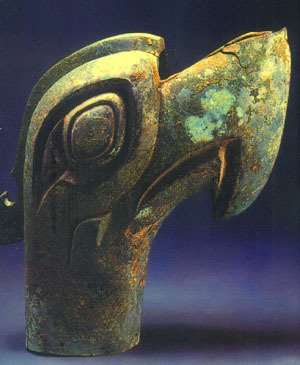 ©China.cn
Bronze bird-head unearthed at Sanxingdui
Between 8 and 10 tons of bronze were used to cast the Sanxingdui images. "The bronze is not indigenous to the Sanxingdui area," said Chen De'an, one of the excavators of the ruins, adding that it probably came from China's far southwest. Most experts believe the ancestors of the ancient Sanxingdui people were the Di and Qiang peoples, originally nomads, who picked up bronze working technology in Dongchuan, in southwestern China's Yunnan Province.
Copper mining in Dongchuan dates back at least as far the Han Dynasty (206 BC - AD 220), with all the copper mines in Dongchuan adjacent to the Jinsha River. Most Ming and Qing dynasty copper coins were cast from the metal smelted in Dongchuan. It seems very possible that the bronze for casting the relics in Sanxingdui Ruins came from the same area. A restoration expert said that the alloy used to make the Sanxingdui bronzes was of particularly high quality.
Further evidence linking Yunnan's minorities and Sanxingdui was provided by seashells found in this village of the Akas near the China-Myanmar frontier, which were similar to those unearthed at Sanxingdui.
The Sanxingdui museum withstood the devastating May 12 earthquake with minimal damage. Only two items of pottery and part of an ancient city wall were damaged. Repairs to these items are under way.